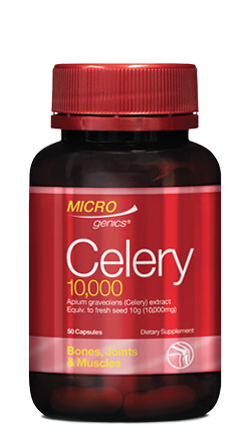 Microgenics Celery 10,000 50 Capsules
INGREDIENT INFORMATION
Relieve symptoms of occasional episodes of gout
Celery acts as a mild anti-inflammatory. Because of this, it can bring mild relief inpainful, swollen joints as seen in arthritis and gout.
Celery can be especially beneficial during gout, a condition in which uric acid crystals have collected in the joints. It not only reduces the inflammation in the joint, but also helps reduce the build-up of uric acid crystals that cause the pain, and helps flush them out. This makes it an ideal herb for the treatment of gout.
Promote urine output to improve fluid retention
Fluid retention can occur when there is an excess accumulation of fluid in tissues, and can affect any part of the body. Symptoms of fluid retention include swollen hands or feet, stiffness in the affected body part, and the skin feeling too tight. In some cases, the skin may become indented for a few seconds when pushed on it. Fluid retention can be caused by a number of underlying conditions. It is always best to get fluid retention checked by a healthcare professional first.
Some of the most common causes for fluid retention include:
▪ Hot weather
▪ Circulatory problems
▪ Standing for long periods of time
▪ Hormonal fluctuations prior to the menstrual period or pregnancy
▪ Side effects of prescription medication Or more serious conditions such as:
▪ Kidney disease
▪ Liver disease
▪ Lung disease
▪ High blood pressure
Celery seeds have a long traditional use in fluid retention because they act as a diuretic and help promote urine output. Due to the fact they are rich in potassium and sodium, they can help maintain the fluid balance in the body, and assist with the removal of excess water from the body through urination. This makes celery a useful herb in oedema or fluid retention, when this is caused by build-up of excess fluid.
Urinary tract infections
Celery can also act as an antiseptic to the urinary tract, and bring relief during urinary tract infections and cystitis. Even though it is not certain that the herb has antimicrobial activity against microorganisms implicated in urinary tract infections, it can still bring relief due to its diuretic effects.
SUMMARISED
▪ Celery can help improve fluid retention by removing excess water from the body
▪ Celery can help relieve gout symptoms because it can reduce inflammation and the build-up of uric acid crystals in the joints
▪ Celery can bring relief during a urinary tract infection
PRODUCT BENEFITS
▪ Convenient 1-a-day dose
▪ High strength
▪ Capsule for better absorption
APPROVED LABEL CLAIM
Microgenics Celery 10,000 contains Celery seed which is traditionally used in Western Herbal Medicine to relieve mild rheumatic aches and pains as well as symptoms of occasional episodes of gout. Celery seed is traditionally used in Western Herbal Medicine to:
üüRelieve mild rheumatic aches and pains
üüRelieve symptoms of occasional episodes of gout
INGREDIENTS (per capsule)
Apium graveolens (Celery) extract
Equiv. to fresh seed 10g (10,000mg)
CONTAINS NO ADDED
Wheat, gluten, yeast, dairy products, egg, artificial flavours, preservatives or sweeteners.
STORAGE INFORMATION
Store below 30°C, away from children. Take in conjunction with a healthy balanced diet.
DOSE
Adults, take 1 capsule once daily, with meals, or as directed by your healthcare professional.
CAUTIONS/CONTRAINDICATIONS
If symptoms persist, worsen or episodes become more frequent, consult your medical practitioner. Always read the label. Take only as directed. Do
not use if tamper evidence seal is missing, torn or broken. Contains sulfites. Not suitable for use during pregnancy and breastfeeding.
MEDICINE INTERACTIONS
If taking prescription medication or if in doubt consult your healthcare professional.