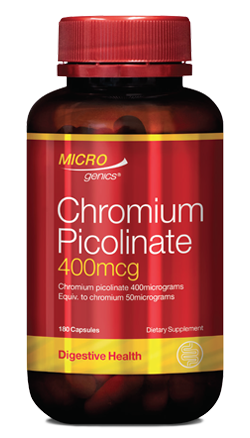 Microgenics Chromium Picolinate 400mcg 180 Capsules
Chromium is an essential trace mineral that has received much attention as a dietary supplement because good dietary sources of chromium are scarce, and intake is generally low. Chromium on its own is not very well absorbed by the body; but increased absorption is seen in a picolinate form as used in this formula1.
INGREDIENT INFORMATION
Chromium assists carbohydrate metabolism
Chromium can help support the metabolism of carbohydrates by enhancing the action insulin2. Carbohydrates are broken down into sugar in the digestive tract and then absorbed into the blood stream. How much blood sugar levels rise, and insulin levels rise as a result, varies widely from food to food, depending on the glycaemic index of that food. Several studies have shown that chromium can help support healthy blood sugar levels3,4,5. Thus, taking a chromium supplement with carbohydrate-rich foods may be an effective way to lower the glycaemic index of that meal, and may improve blood sugar levels.
Support fat metabolism
Low levels of dietary chromium are associated with increased cholesterol levels and an increased risk at developing cardiovascular disease. Supplementation with chromium has been shown to increase HDL cholesterol ("good" cholesterol) and decrease triglyceride and total cholesterol levels6,7. Supplementing with Chromium may help support healthy cholesterol levels.
Support protein metabolism
It has been observed that supplementing with chromium picolinate can increase muscle mass. While the mechanism of action is still unknown, it is believed to do this either by stimulating protein anabolism or by decreasing protein breakdown8. Chromium and cravings Studies have shown that chromium picolinate can be useful to reduce hunger and cravings in healthy, overweight women9.
SUMMARISED
▪ Chromium picolinate is a form of chromium that is well absorbed in the body
▪ Chromium may help support healthy blood sugar levels
▪ Chromium may help support healthy cholesterol levels
▪ Chromium may help reduce cravings
PRODUCT BENEFITS
▪ Convenient 1-a-day dose
▪ Form of chromium that is well-absorbed and utilised
▪ Capsule for better absorption
APPROVED LABEL CLAIM
Microgenics Chromium Picolinate 400mcg is a source of Chromium which assists glucose, sugar, carbohydrate metabolism and helps maintain healthy blood sugar in healthy individuals.
üüChromium assists glucose/sugar/carbohydrate metabolism
üüHelps maintain healthy blood sugar in healthy individuals
INGREDIENTS (per capsule)
Chromium picolinate 400micrograms
Equiv. to chromium 50micrograms
CONTAINS NO ADDED
Wheat, corn, gluten, yeast, dairy products, egg, artificial flavours, preservatives or sweeteners.
STORAGE INFORMATION
Store below 30°C, away from children. Take in conjunction with a healthy balanced diet.
DOSE
Adults, take 1 capsule once daily, with meals, or as directed by your healthcare professional.
CAUTIONS/CONTRAINDICATIONS
Vitamins and minerals can only be of assistance if dietary intake is inadequate. If symptoms persist seek the advice of a healthcare professional. Always read the label. Take only as directed. Do not use if tamper evidence seal is missing, torn or broken. Contains sulfites.
MEDICINE INTERACTIONS
If taking prescription medication or if in doubt consult your healthcare professional.