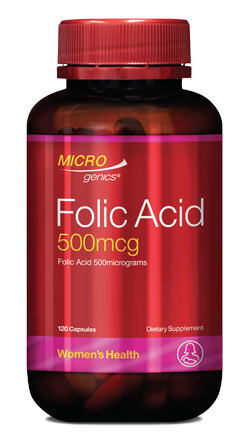 Microgenics Folic Acid 500mcg 120 Capsules
Folate is well recognised for its value in the prevention of certain birth defects. Folate is a B-vitamin (B9) and found in foods such as leafy green vegetables, fruits, dried beans, and peas. The synthetic form of folate is called folic acid, and is used in dietary supplements and fortified foods. Low levels of folate in the mother to be have been linked to birth defects such as spina bifida and anencephaly in the baby.
INGREDIENT INFORMATION
Helps prevent spina bifida and anencephaly
Spina bifida is a birth defect where there is incomplete closing of the backbone and membranes around the spinal cord of the baby. The baby is born with exposed nerves and damaged vertebrae, and the effects are permanent. Children with spina bifida can face paralysis, problems with mobility, muscle control, coordination and learning. Approximately 150 babies are born with spina bifida in Australia each year1. Anencephaly is a condition in which parts of a baby's brain and skull do not form correctly, and the skull and scalp are partially or totally missing. Babies with anencephaly usually die at, or soon after, birth.
Studies have shown that starting folic acid supplementation before conception can significantly reduce the incidence of these birth defects2,3. That is why folic acid supplements are routinely prescribed for women who are trying to conceive.
Supports preconception health
It is recommended women start with folic acid supplementation well before they attempt to conceive, because the brain and spine are formed in the first few weeks of pregnancy, often before a woman knows she is pregnant. It is estimated that 51% of pregnancies in Australia are unplanned4. For these reasons, it is important that all women of child-bearing age who are not on contraceptives should ensure they consume sufficient levels of folic – even if they are not planning to conceive soon.
Supports maternal health
During pregnancy, the growing baby increases the demand for folate. Inadequate folate intake can have a negative impact on the pregnant woman's health5, such as fatigue, lethargy, shortness of breath and irritability6. Supplementing with folate during pregnancy helps support the health of both baby and mother.
Assists in red blood cell production
During pregnancy, the body makes more blood but keeps the same amount of red blood cells. The baby uses the mother's red blood cells for growth and development, especially in the last 3 months of pregnancy. If the mother has extra red blood cells stored in her bone marrow prior to pregnancy, her body can use those stores to reduce the risk on any problems.
If red blood cell stores are low it can lead to iron-deficiency anaemia. This is the most common type of anaemia in pregnancy. Good nutrition before conception, or supplementing with folic acid to help red blood cell production, is important to help build up these stores7 and to avoid anaemia in pregnancy.
SUMMARISED
▪ Folic acid can help prevent birth defects such as spina bifida
▪ Folic acid is necessary to produce red blood cells. Low folate levels can result in fatigue in the pregnant woman
▪ Folic acid can help prevent anaemia of pregnancy
PRODUCT BENEFITS
▪ Convenient 1-a-day dose
▪ Capsule for better absorption
APPROVED LABEL CLAIM
Microgenics Folic Acid 500mcg supports general health and wellbeing. Folic acid aids healthy red blood cell production and protein synthesis in the body. Folic acid maintains healthy foetal development and helps to prevent neural tube defects such as spina bifida and/or anencephaly. Folic Acid supports maternal health and healthy pregnancy.
üüFolic Acid supports maternal health and healthy pregnancy
INGREDIENTS (per capsule)
Folic Acid 500micrograms
CONTAINS NO ADDED
Wheat, corn, gluten, yeast, dairy products, egg, artificial flavours, preservatives or sweeteners.
STORAGE INFORMATION
Store below 30°C, away from children. Take in conjunction with a healthy balanced diet.
DOSE
Adults take 1 capsule once daily, with meals, or as directed by your healthcare professional.
CAUTIONS/CONTRAINDICATIONS
Do not exceed the stated dose except on medical advice. If you have had a baby with a neural tube defect/spina bifida – seek specific medical advice. Vitamins can only be of assistance if dietary intake is inadequate. Advise your doctor of any medicine you take during pregnancy, particularly in your first trimester. If you are concerned about the health of yourself or your baby, please consult your healthcare professional. If symptoms persist seek the advice of a healthcare professional. Always read the label. Take only as directed. Do not use if tamper evidence seal is missing, torn or broken. Contains sulfites.
MEDICINE INTERACTIONS
If taking prescription medication or if in doubt consult your healthcare professional.