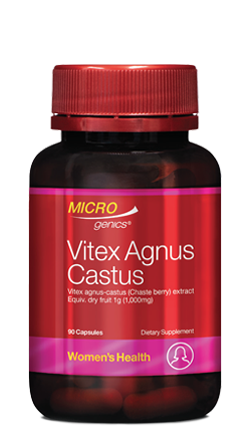 Microgenics Vitex Agnus Castus 90 Capsules
Vitex agnus castus, also called Chaste Berry, has been used since ancient times to relieve problems associated with the menstrual cycle, including irregular cycles and PMS.
Most women know all about PMS. It is estimated that as many as 90% of women experience at least one PMS symptom most months, and that about 50% of women get several symptoms each month. Symptoms typically start after ovulation when progesterone and oestrogen levels are both elevated. Some women are at their worst for the first 24-48 hours of menstruation and see symptoms improving over the next few days.
PMS is uncommon in adolescence because a regular cycle hasn't been established yet, and occurs most frequently in women in their 30s and 40s. Classic PMS symptoms include fluid retention, bloating and weight gain, increased appetite, breast swelling and tenderness and mood changes1.
INGREDIENT INFORMATION
Vitex supports healthy reproductive hormones
Vitex agnus castus is the herb of choice for many natural therapists to support women who have problems related to their menstrual cycle. Research has shown that Vitex can help balance levels of oestrogen and progesterone during the menstrual cycle. Imbalances between oestrogen and progesterone can lead to PMS symptoms such as mood swings, bloating, food cravings, irritability and breast tenderness. By helping restore the balance between those two hormones, Vitex agnus castus can help relieve PMS symptoms.
Vitex also helps regulate female hormones through its ability to block prolactin secretion in women with excessive levels of this hormone. Excessive levels of prolactin can lead to breast tenderness and failure to ovulate.
Clinical research has confirmed that Vitex agnus castus can reduce mildly elevated levels of prolactin before a woman's period, thus improving breast tenderness and regulating cycles. Several studies have also shown that Vitex agnus castus can help normalise irregular periods2,3.
Traditionally used to relieve symptoms of premenstrual tension Studies have shown that taking one Vitex agnus castus capsule in the morning over a period of several months can help normalise hormone balance and thus alleviate the symptoms of PMS, such as breast pain, bloating, and irritability4-7.
In one clinical trial, 170 women with a diagnosis of PMS received a Vitex agnus castus supplement or a placebo for three menstrual cycles. More than half of the women taking Vitex experienced a 50% or greater reduction in symptoms8.
SUMMARISED:
▪ Vitex agnus castus can help relieve PMS symptoms such as bloating, mood swings, breast tenderness and food cravings
▪ Vitex agnus castus can help normalize irregular periods
▪ It is recommended to take Vitex agnus castus for at least 3 menstrual cycles
PRODUCT BENEFITS
▪ High strength
▪ Convenient 1-a-day dose
▪ Capsule for better absorption
APPROVED LABEL CLAIM
Microgenics Vitex Agnus Castus contains Vitex agnus-castus (Chaste berry) which supports healthy reproductive hormones. Chaste berry is traditionally used in Western Herbal Medicine to relieve symptoms of premenstrual tension and to help reduce occurrence of premenstrual tension symptoms.
▪ üüVitex supports healthy reproductive hormones
▪ üüTraditionally used in Western Herbal Medicine to relieve symptoms of premenstrual tension
INGREDIENTS (per capsule)
Vitex agnus-castus (Chaste berry) extract
Equiv. to dry fruit 1g (1,000mg)
CONTAINS NO ADDED
Wheat, gluten, yeast, dairy products, egg, artificial flavours, preservatives or sweeteners.
STORAGE INFORMATION
Store below 30°C, away from children. Take in conjunction with a healthy balanced diet.
DOSE
Adults, take 1 capsule once daily, in the morning, with meals, or as directed by your healthcare professional. Take for a minimum of 3 months.
CAUTIONS/CONTRAINDICATIONS
If symptoms persist seek the advice of a healthcare professional. Always read the label. Take only as directed. Do not use if tamper evidence seal is missing, torn or broken. Contains sulfites. Not suitable for use during pregnancy and breastfeeding.
MEDICINE INTERACTIONS
If taking prescription medication or if in doubt consult your healthcare professional.