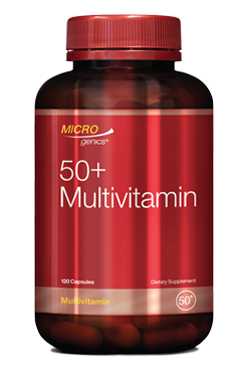 Microgenics 50+ Multivitamin 120 Capsules
Why a multi for those over 50? As we age, not only do our nutritional requirements change, but so does the way our body processes nutrients. It is estimated that 20% of the elder population have low stomach acid. This can affect the absorption of nutrients such as vitamin B12, calcium, iron and magnesium1. Studies estimate that 10-30% of people over age 50 have a reduced ability to absorb vitamin B12 from their diet2.
Additionally, up to 40% of the elder population have low or deficient level of Vitamin B111. The majority (92%) of older Australians don't consume enough fruit and vegetables to meet the daily recommended guidelines, therefore missing out on essential vitamin and minerals3.
INGREDIENT INFORMATION
Support healthy bones
People over 50 years of age have an increased need for calcium, vitamin D3 and vitamin K2 to help maintain healthy bones, but studies have found that absorption of calcium in the gut declines with age4 and that ageing can make the skin thinner, which reduces its ability to make vitamin D35.
This can have a negative impact on bone health. Women over the age of 50 have the greatest risk of developing osteoporosis. It is estimated that 23% of Australian women over 50 have osteoporosis and are four times more likely than men to develop it6. Calcium, vitamin D3 and vitamin K2 have been included in Microgenics 50+ Multivitamin to support healthy, strong bones and help reduce the risk at osteoporosis in those over 50 years of age.
Support heart health
Increasing evidence links thiamine deficiency with many cardiovascular diseases and risk factors12 and studies suggest that taking thiamine supplements may help improve heart health in the elderly population. Taking a daily multivitamin should provide enough thiamine13.
Support eye health and vision
The eyes change with age, and some problems become more common, such as Age-related Macular Degeneration (AMD). AMD is a disease that gradually destroys sharp, central vision. Central vision is needed for seeing objects clearly and for common daily tasks such as reading and driving7,8. Vitamin A, vitamin E, vitamin C, selenium, copper and zinc have all been identified as nutrients that support eye health and decrease the risk at AMD in the ground-breaking AREDS and AREDS2 studies, and have been included in Microgenics 50+ Multivitamin to support eye health and vision.
Support healthy thyroid function
As we age, the thyroid gland often functions less well, and this can lead to producing lower thyroid hormones than desired. By age 50, 10% of women have signs of thyroid failure, and by age 60, 17% of women and 8% of men's thyroid function will be below normal9. This can lead to many different symptoms, including fatigue, weight gain, low moods, sensitivity to cold and much more. Selenium and iodine in Microgenics 50+ Multivitamin can help support a healthy thyroid function in those over the age of 50. Help reduce free radical damage As people age, free radical damage increases10. Those over 50 years of age need higher levels of antioxidants to bring their free radical levels back to normal. Free radical damage plays a role in many degenerative diseases. Vitamin E, vitamin C, selenium and zinc in this formula are all anti-oxidants that can help reduce free
radical damage.
Support a healthy skin
As we age, the skin doesn't produce new cells as quickly as it used to, leading to reduced elasticity and dryness. This contributes to lines and wrinkles in the skin. Vitamin C, vitamin B2 and zinc can help support a healthy ageing skin.
SUMMARISED
▪ People over the age of 50 have a reduced ability to absorb certain vitamins and minerals from their diet, and often don't consume the recommended daily intake of fruit and vegetables
▪ People over the age of 50 have higher requirements for certain vitamins and minerals than younger age groups
▪ This formula incorporates a range of vitamins targeted specifically to support the health of those over the age of 50
PRODUCT BENEFITS
▪ 34 ingredients specifically selected for those over the age of 50
▪ Includes nutrients to support eye health in ageing customers
▪ Contains herbs to support energy and memory
APPROVED LABEL CLAIM
Microgenics 50+ Multivitamin contains vitamins and minerals that maintain general
health and wellbeing. It has been specifically formulated with Vitamin D3 which
supports healthy cardiovascular system function and Thiamine which supports
heart health. Vitamin D3 also helps Calcium absorption and a diet deficient in
Calcium can lead to osteoporosis later in life. Microgenics 50+ Multivitamin also
contains B Vitamins which support energy production.
üüWith vitamins and minerals to support health and wellbeing
INGREDIENTS (per capsule)
Betacarotene 1.5mg
Thiamine hydrochloride 30mg
Equiv. Thiamine (Vitamin B1) 27mg
Riboflavin (Vitamin B2) 30mg
Nicotinamide 20mg
Calcium pantothenate 70mg
Equiv. Pantothenic acid
(Vitamin B5) 64mg
Pyridoxine hydrochloride 30mg
Equiv. Pyridoxine
(Vitamin B6) 25mg
Folic acid 500micrograms
Cyanocobalamin
(Vitamin B12) 115micrograms
Biotin 150micrograms
Ascorbic acid (Vitamin C) 165mg
Colecalciferol
(Vitamin D3 500IU) 12.5micrograms
d-alpha Tocopheryl acid succinate (Vitamin
E 24IU) 20mg
Menaquinone 7 45micrograms
Citrus bioflavonoids extract 20mg
Calcium
(from Calcium citrate tetrahydrate) 20mg
Chromium
(from Chromium picolinate) 50micrograms
Copper (as Copper gluconate) 1.2mg
Iron (as Ferrous fumarate) 5mg
Magnesium
(from Magnesium amino acid chelate) 7.5mg
Manganese
(from Manganese amino acid chelate) 3mg
Iodine
(from Potassium iodide) 150micrograms
Selenium
(from Selenomethionine) 26micrograms
Zinc (from Zinc amino acid chelate) 15mg
Soy phosphatidylserine-enriched
soy lecithin powder 2.9mg
Ubidecarenone 2mg
Bacopa monnieri (Brahmi) dry extract 2.5mg
From dry leaf 50mg
Curcuma longa (Turmeric) dry extract 2.86mg
From dry rhizome 100mg
Cynara scolymus (Globe Artichoke)
dry extract 2.5mg
From fresh leaf 50mg
Ginkgo biloba dry extract 20mg
From dry leaf 1g (1,000mg)
Silybum marianum (Milk Thistle)
dry extract 21.4mg
From dry seed 1.5g (1,500mg)
Tagetes erecta (Marigold) dry extract 10mg
From fresh flower 800mg
Equiv. Lutein esters
calculated as lutein 1mg
Vaccinium macrocarpon (Cranberry)
dry extract 1.6mg
From fresh fruit 800mg
Vaccinium myrtillus (Bilberry)
dry extract 1mg
From fresh fruit 100mg
Vitis vinifera (Grape) dry extract 8.3mg
From dry seed 1g (1,000mg)
CONTAINS NO ADDED
Wheat, gluten, yeast, dairy products, egg, artificial flavours, preservatives or sweeteners.
STORAGE INFORMATION
Store below 30°C, away from children. Take in conjunction with a healthy balanced diet.
DOSE
Adults, take 1 capsule once daily, with meals, or as
directed by your healthcare professional.
CAUTIONS/CONTRAINDICATIONS
This product contains Selenium which is toxic
in high doses. A daily dose of 150micrograms
for adults of Selenium from dietary supplements
should not be exceeded. Do not take while on
warfarin therapy without medical advice. Vitamins
and minerals can only be of assistance if dietary
intake is inadequate. If symptoms persist, seek
the advice of a healthcare professional. Always
read the label. Take only as directed. Do not use
if tamper evidence seal is missing, torn or broken.
Contains soy and sulfites. Do not take while on
warfarin therapy without medical advice. If taking
prescription medication or if in doubt consult your
healthcare professional.
MEDICINE INTERACTIONS
If taking prescription medication or if in doubt
consult your healthcare professional.