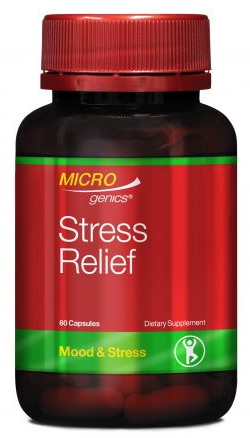 Microgenics Stress Relief 60 Capsules
Over 70% of Australian feel that stress impacts on their daily life1. During stress, the body goes into 'fight or flight' mode and produces stress hormones that keep you alert. Once the stressor has gone, hormone levels go back to normal and the body relaxes again.
However, if the stressor doesn't go away – e.g. a difficult work situation, financial problems, relationship problems, a hectic lifestyle – the body stays in 'fight or flight' mode for an extended period of time. This can affect every physiological system in the body, and contribute to the development of anxiety, depression, and even panic disorders in severe cases.
Adaptogens such as the ones used in Microgenics Stress Relief are substances that help balance, restore and protect the body during stressful times. They help the body respond to any influence or stressor, normalising physiological functions.
INGREDIENT INFORMATION
St John's Wort to relieve nervous tension
St John's Wort has been used for centuries to help support moods. Modern science now knows that it does this by ensuring neurotransmitters, substances that regulate moods, such as serotonin stay longer in the bloodstream, so they have a longer effect2. Studies have shown St John's Wort can be just as effective as SSRI and TCA anti-depressants to bring relief during times of depression3,4 and anxiety5 – but if a customer is already on anti-depressants, please advise them to not discontinue their medication but to talk to their GP first. St John's Wort has also been shown to help improve memory during times of stress6.
Gingko biloba to relieve mild anxiety
Gingko biloba is often thought of as the 'go to' herb to support memory and concentration, but it can also be helpful during times of acute and chronic stress due to its antioxidant and neuroprotective properties7. Research has found that Gingko biloba can bring relief during times of acute stress8, and that it can also help relieve mild anxiety. Several studies have shown that supplementing with Gingko for 4-6 weeks can result in a significant reduction in feelings of stress and mild anxiety9,10. However, it has to be noted that while Ginkgo brings relief during acute stress,
Panax ginseng is more beneficial during chronic stress11.
Panax ginseng to support the body during stressful times
Panax ginseng has a long traditional use as an adaptogen. It has been shown to successfully improve feelings of calmness12 and has been found to "possess significant anti-stress properties that can be used for the treatment of stressinduced disorders"13. Research shows it is beneficial to relieve both anxiety and depression as a result of stress14.
Orange oil
Orange oil is an essential oil that may help reduce stress15.
Rosemary oil
Rosemary oil is an essential oil can help lower levels of the stress hormone cortisol and thus be beneficial during times of stress16.
SUMMARISED
▪ Microgenics Stress Relief contains St John's Wort, Gingko and Panax
▪ St John's Worth can help relieve depression and anxiety as a result of stress
▪ Ginkgo can help reduce feelings of stress and anxiety if taken for 4-6 weeks
▪ Panax can help improve feelings of calmness during stress
PRODUCT BENEFITS
▪ Comprehensive formula
▪ Convenient 1-a-day dose
▪ Capsules for better absorption
APPROVED LABEL CLAIM
Microgenics Stress Relief contains St John's Wort, a herb traditionally used in Western Herbal Medicine as a calmative, to soothe the nerves and relax the nervous system and to relieve nervous tension, nervous energy and restlessness. St John's Wort has been traditionally used in Western Herbal Medicine to:
üüSoothe the nerves
üüRelax the nervous system
üüRelieve nervous tension
INGREDIENTS (per capsule)
Herbal extracts equiv. to dry:
Hypericum perforatum (St John's Wort) flowering herb top 4g (4,000mg)
Panax ginseng (Korean ginseng) root 100mg
Ginkgo biloba (Ginkgo) leaf 100mg
And:
Orange oil 2mg
Rosemary oil 2mg
CONTAINS NO ADDED
Wheat, gluten, yeast, dairy products, egg, artificial flavours, preservatives or sweeteners.
STORAGE INFORMATION
Store below 30°C, away from children. Take in conjunction with a healthy balanced diet.
DOSE
Adults, take 1 capsule once daily, with meals, or as directed by your healthcare professional.
CAUTIONS/CONTRAINDICATIONS
WARNING: St John's Wort affects the way many prescription medicines work – including oral contraceptives. Consult your doctor. If symptoms persist seek the advice of a healthcare professional. Always read the label. Take only as directed. Do not use if tamper evidence seal is missing, torn or broken. Contains sulfites. Not suitable for use during pregnancy and breastfeeding.
MEDICINE INTERACTIONS
If taking prescription medication or if in doubt consult your healthcare professional.