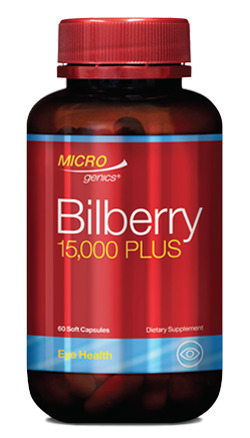 Microgenics Bilberry 15,000 Plus 60 Capsules
Vision is one of the most important senses for supplying information to the brain. Light enters the eye through the lens via the pupil, then travels through the interior of the eye until it reaches the retina at the back of the eye.
The macula is the functional centre of the retina. It takes the picture that is sent to the brain, where vision is completed. The macula provides us with the ability to read and see in great detail. Damage to the macula can result in blurred vision or blind spots, trouble reading fine-print, problems judging distances, difficulty recognising faces, or adjusting to low light situations.
The macula is a fragile structure. It can be damaged by several factors, including but not limited to1,2,3:
▪ Ageing – Middle-aged people have about a 2% risk of getting macular degeneration, but by 75 this increases to 30%.
▪ Smoking – People who smoke are three to four times more likely to develop macular degeneration.
▪ Exposure to blue light – i.e. from televisions, computer screens, mobile phone screens etc. The Beaver Dam Eye Study showed that increased exposure to blue light in teenagers, and those in their twenties and thirties increased the risk of onset age macular degeneration by 10 years.
▪ Prolonged exposure to sunlight – Multiple studies identified an increasing risk of macular degeneration with greater sunlight exposure; i.e. by those working outdoors, those not wearing sunglasses when outdoors etc.
INGREDIENT INFORMATION
Bilberry to support healthy eye function
Clinical trials have found that Bilberry may help enhance night-time vision and may assist the eye to adjust to low and poor light. The active components of Bilberry responsible for this are called anthocyanosides. They are potent antioxidants that may help in maintaining the integrity of the eye lens and retina by supporting the circulation to the area and strengthen the capillaries4. Riboflavin (Vitamin B2) to support eye health Vitamin B2 is important for eye health due to its role in protecting glutathione, an important antioxidant for eye health5. Research has shown that eating a diet rich in riboflavin can lower the risk of developing cataracts6.
Marigold with Lutein to support macula health
Marigold is a plant high in lutein. Lutein is a potent antioxidant that supports eye health and vision by assisting the development of pigment in the macula of the eye7. The macula is the area in the eye that is responsible for sharp, detailed central vision. By protecting the macula from free radical damage, lutein helps support eye health. Zinc, Vitamin C, beta-carotene, copper and Vitamin E to decrease free radical damage The ground-breaking Age Related Eye Disease Studies AREDS 1 and 2 have shown that low or deficient levels of zinc, Vitamin C, beta-carotene, copper and Vitamin E increase the risk at age-related macular degeneration; and that supplementing could help decrease that risk by around 25% in those at risk8,9.
Glutamine
Glutamine is an amino acid, and is a building block for glutathione. Low levels of glutathione in the eye are associated with a greater risk for Macular Degeneration. Glutathione itself is not very well absorbed in the body. To compensate the body can make glutathione from glutamine and Vitamin B2.
Taurine
Taurine is an amino acid that is crucial for vision and is one of the most abundant amino acids in the retina of the eye. A deficiency is associated with damage to the retina, such as macular degeneration and other retinal diseases10,11.
PRODUCT BENEFITS
▪ Comprehensive formula with 11 ingredients
▪ High dose Bilberry
▪ High in antioxidants
APPROVED LABEL CLAIM
Microgenics Bilberry 15,000 Plus contains ingredients that maintain eye health and support healthy eye function. It also contains Lutein which helps support macula and retina health, plus Zinc and Betacarotene which maintain healthy vision. Microgenics Bilberry 15,000 Plus contains Vitamin C which supports capillary and blood vessel health.
üüContains ingredients that maintain eye health and support healthy eye function
üüLutein helps support macula and retina health
üüZinc and Betacarotene maintain healthy vision
INGREDIENTS (per capsule)
Herbal extracts equivalent to:
Vaccinium myrtillus (Bilberry) fresh fruit 15g (15,000mg)
Tagetes erecta (Marigold) fresh flower 3.67g (3,670mg)
Equiv. Lutein esters calculated as Lutein 5mg
And nutrients:
Betacarotene 2.5mg
Riboflavin (Vitamin B2) 25mg
Ascorbic acid (Vitamin C) 200mg
d-alpha-Tocopherol (Vitamin E 200IU) 134mg
Cupric sulfate pentahydrate 1.97mg
Equiv. to Copper 500micrograms
Zinc gluconate 105mg
Equiv. to Zinc 15mg
Glutamine 25mg
Taurine 50mg
Citrus bioflavonoids extract 50mg
CONTAINS NO ADDED
Wheat, gluten, yeast, dairy products, egg, artificial flavours, preservatives or sweeteners.
STORAGE INFORMATION
Store below 30°C, away from children. Take in conjunction with a healthy balanced diet.