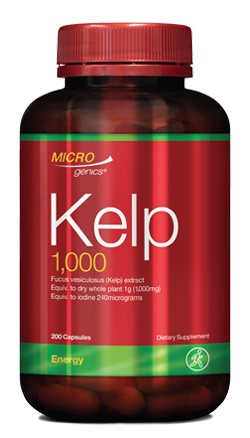 Microgenics Kelp 1000 200 Capsules
INGREDIENT INFORMATION
Supports energy production
Kelp, or bladderwrack, is a brown type of seaweed that is rich in iodine. Iodine is essential for the production of thyroid hormones, which regulate many different processes in the body, including energy production. Studies have found that supplementing with kelp can help support healthy thyroid function1.
Supports healthy thyroid gland function
The thyroid is one of the largest hormone producing glands in the body, and is located at the base of the throat. It controls how quickly the body burns energy, makes proteins, and regulates how sensitive the body is to other hormones, e.g. female reproductive hormones and insulin. It also plays a role in mood regulation and cognition.
The thyroid gets a signal from the brain to produce the largely inactive thyroid hormone thyroxine (T4), which is then converted elsewhere in the body into the metabolically active triiodothyronine (T3).
The body needs iodine to produce these hormones. The body cannot make iodine itself, which means people need to get it through their diet. If they don't get enough iodine through their diet, the body can't produce enough thyroid hormones, and this can cause hypothyroidism.
Hypothyroidism occurs in about 5% of the Australian adult population, affects 10 times more women than men; with rates increasing with ageing. "Many people suffer from "subclinical hypothyroidism" or mild thyroid failure, where the thyroid's function slows down but not enough for a GP to prescribe medication. Symptoms and signs of hypothyroidism are often mild and subtle and can range from fatigue, weight gain and intolerance to cold; to dry brittle hair, reduced attention span, feelings of depression and poor memory. Because these symptoms are so common, hypothyroidism may remain undiagnosed for a long time2.
Support cognition
Apart from regulating energy production, iodine is also critical for producing neurotransmitters, chemical messengers in the body that amongst other things, regulate moods. Several studies have shown that low T3 levels as a result of low iodine levels, can lead to reduced levels of serotonin in the brain3. Low serotonin levels are associated with impaired cognitive function and depression, and supplementing with iodine or foods rich in iodine may help improve cognition. Insufficient iodine can negatively affect acetylcholine synthesis in the brain, which can affect cognition, memory, learning, recall and mood4.
SUMMARISED
▪ Kelp is rich in iodine, which is essential for the production of thyroid hormones
▪ Low thyroid function can lead to fatigue, low moods and poor memory
PRODUCT BENEFITS
▪ Convenient 1-a-day dose
▪ Capsule for convenience
▪ Supplies iodine to help prevent iodine deficiency
APPROVED LABEL CLAIM
Microgenics Kelp 1000 contains Fucus vesiculosus (Kelp) which is a source
of iodine. Iodine supports healthy thyroid gland function and thyroid gland
hormones. It also supports energy production as well as skin and cognitive
health. Kelp is a source of iodine which:
üüSupports energy production
üüSupports healthy thyroid gland function
INGREDIENTS (per capsule)
Fucus vesiculosus (Kelp) extract
Equiv. to dry whole plant 1g (1,000mg)
Equiv. to iodine 240micrograms
CONTAINS NO ADDED
Wheat, gluten, yeast, dairy products, egg, artificial flavours, preservatives or sweeteners.
STORAGE INFORMATION
Store below 30°C, away from children. Take in conjunction with a healthy balanced diet.
CUSTOMER PROFILE
▪ Fatigued
▪ Unexplained weight gain
▪ Intolerance to cold
▪ Short attention span
▪ Low moods
▪ Subclinical hypothyroidism
DOSE
Adults, take 1 capsule once daily, with meals, or as directed by your healthcare professional.
CAUTIONS/CONTRAINDICATIONS
Vitamins and minerals can only be of assistance if
dietary intake is inadequate. If symptoms persist
seek the advice of a healthcare professional. Always
read the label. Take only as directed. Do not use
if tamper evidence seal is missing, torn or broken.
Contains sulfites.
MEDICINE INTERACTIONS
If taking prescription medication or if in doubt
consult your healthcare professional.