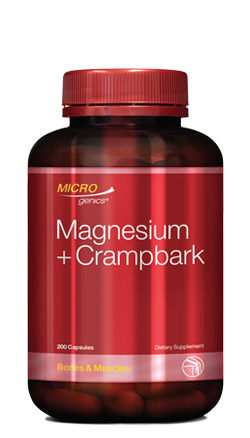 Microgenics Magnesium + Crampbark 200 Capsules
Microgenics Magnesium + Crampbark has been developed to support healthy neuromuscular and muscle function, and may help relieve muscle spasms and cramps.
Muscle cramps can last anywhere from a few seconds to a quarter of an hour or sometimes longer. It is not uncommon for a cramp to recur multiple times until it finally resolves. The cramp may involve a part of a muscle, the entire muscle, or several muscles that usually act together, i.e. in the hands, feet, or calves.
Some cramps involve the simultaneous contraction of muscles that ordinarily move body parts in opposite directions. Muscle cramps are extremely common. It is estimated that almost everyone experiences a cramp at some time in their life, with them becoming increasingly frequent with ageing. Older adults and pregnant women commonly complain of leg cramps while they are resting, but athletes can develop muscle cramps when they are pushing the limits of their endurance. Some people develop muscle cramps as a symptom in physical inactivity or of a medical conditions1.
Leg cramps are reported in up to 60% of adults and 7% of children. They are troublesome and can cause severe pain and sleep disturbance, and residual pain sometimes occurs in the affected muscles after cramping. Up to 20% of people who complain of leg cramps have symptoms every day which are severe enough to require medical intervention4.
INGREDIENT INFORMATION
Magnesium supports muscle function
Magnesium can be beneficial for muscle cramps, because it helps muscles relax and contract. It does this by playing a role in the regulation of neuromuscular signals, muscle contractions and the active transport of electrolytes calcium and potassium across cellular membranes. A deficiency in magnesium can contribute to muscle cramps.
Research has shown that supplementing with 300mg magnesium per day can bring relief in leg cramps, especially in pregnant women2,5,6. Cramp bark has been added to this formula because it has a long history of traditional use as an antispasmodic in muscle cramping, especially in the legs and lower back3. Vitamin B6 and Zinc have been included to assist with absorption of Magnesium into the cells Relieve period pain It is estimated that around 50% of all women experience cramps when menstruating. This is caused by the muscles of the uterus squeezing and contracting7.
The cause of period pain may be the build-up of prostaglandins in the uterus. Prostaglandins are inflammatory mediators, and when they accumulate in the uterus, they trigger the uterine muscles to contract, or tighten up8. Studies show that zinc can inhibit the production of the PGE2 prostaglandins that cause period pain in the first place9,10,11. Other studies suggest that zinc improves the circulation of blood to the uterus. An improved blood flow to the uterus can help prevent cramps12.
There are several studies that show that the longer women take a zinc supplement (for more than 2 months), the more their period pain improved13.
Supplementing with magnesium may also bring relief in period pain. One study reported that when women took a magnesium supplement over the course of six months, period pain progressively decreased with each cycle14. Other research has shown that magnesium can help improve back pain and lower abdominal pain, specifically during the second and third day of the cycle15.
Cramp bark is the herb that many herbalists reach for to relieve painful menstrual cramps. It acts as an antispasmodic to the uterus (womb), and is beneficial to relieve period pain16,17.
SUMMARISED
▪ Magnesium and cramp bark can help relieve muscle cramps and spasms
▪ Magnesium, cramp bark and zinc can help relieve period pain, but are best taken for at least 2 months.
▪ Magnesium can help relieve leg cramps, especially in pregnant women.
PRODUCT BENEFITS
▪ Contains magnesium in a well-absorbed form
▪ Contains cramp bark for extra pain relief
▪ Capsule for convenience and better absorption
APPROVED LABEL CLAIM
Microgenics Magnesium + Crampbark contains nutrients to support general health and wellbeing. Magnesium supports healthy neuromuscular and muscle function and is also involved in energy production to support energy levels.
üüMagnesium supports muscle function
üüMagnesium supports healthy neuromuscular function
INGREDIENTS (per capsule)
Magnesium amino acid chelate 250mg
Equiv. to Magnesium 50mg
Magnesium oxide 170mg
Equiv. to Magnesium 102.5mg
TOTAL MAGNESIUM 152.5mg
Zinc gluconate 28mg
Equiv. to Zinc 4mg
Pyridoxine hydrochloride 25mg
Equiv. to Pyridoxine (Vitamin B6) 20.5mg
Viburnum opulus (Cramp bark) extract
Equiv. to dry stem bark 250mg
CONTAINS NO ADDED
Wheat, gluten, yeast, dairy products, egg, artificial flavours, preservatives or sweeteners.
STORAGE INFORMATION
Store below 30°C, away from children. Take in conjunction with a healthy balanced diet.
CUSTOMER PROFILE
▪ Muscle cramps and spasms
▪ Pregnant women with leg cramps
▪ Athletes experiencing muscle cramps
▪ Women with period pain
DOSE
Adults, take 1 capsule twice daily, with meals, or as directed by your healthcare professional.
CAUTIONS/CONTRAINDICATIONS
Vitamins and minerals can only be of assistance if dietary intake is inadequate. If symptoms persist seek the advice of a healthcare professional.
Always read the label. Take only as directed. Do not use if tamper evidence seal is missing, torn or broken. Contains sulfites.
MEDICINE INTERACTIONS
If taking prescription medication or if in doubt consult your healthcare professional.