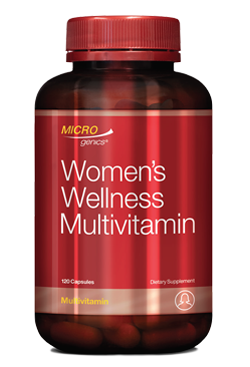 Microgenics Women's Wellness Multivitamin 120 Capsules
Microgenics Women's Wellness Multivitamin is a comprehensive formula containing 26 carefully selected ingredients to provide daily nutritional support for women in one easy to swallow capsule per day.
It includes riboflavin which maintains hair and nail growth, and Vitamin C which supports collagen production. It also provides B Vitamins which support energy production. It is ideal to obtain the nutrients we need through our food. A balanced diet with plenty of fruits, vegetables, and whole grains offers a mix of vitamins, minerals, and other nutrients which should meet the body's needs.
Unfortunately, according to the Australian Bureau of Statistics:
▪ 3 in 4 women (75%) don't get enough calcium through their diet
▪ 1 in 4 women (25%) have an inadequate iron intake
▪ 1 in 11 women (9%) don't meet their folate requirements through the diet
▪ 1 in 6 women (16%) have inadequate Vitamin B1 intake
▪ 1 in 12 women (8%) don't get enough iodine through their diet
Women aged 71 years and over are less likely to meet their requirements
for Vitamin B2 and Vitamin B6. A multivitamin can help fill in the gaps, and help prevent health issues that may arise from deficiencies. Microgenics Women's Wellness Multivitamin is developed to support women's:
▪ Energy levels during times of stress
▪ Moods and nervous system
▪ Red blood cell production
▪ Metabolism to convert food into energy
▪ Thyroid health
▪ Bone and skin health
Support a healthy nervous system
B-vitamins and magnesium play a major role in production of energy, and the manufacturing of neurotransmitters in the brain that assist with cognitive abilities
and mood. This formula is designed to support a healthy nervous system for women with busy, demanding lifestyles. Vitamin B6 is required for the synthesis and regulation of many neurotransmitters including GABA and serotonin. A deficiency of Vitamin B6 may affect moods, and supplementing with Vitamin B6 may help improve moods.
Support healthy red blood cell production
Folic acid, vitamin B12 and iron are all necessary to support healthy red blood cell production. Red blood cells are needed to carry oxygen to body tissues. If there is not enough oxygen available, this can lead to fatigue, and feelings of lethargy as well as many other health issues.
Support glucose metabolism
Chromium is a mineral that is well-known to help with the metabolism of carbohydrates, fats and protein. It can help support normal healthy blood
sugar levels throughout the day. B-vitamins also help support a healthy glucose metabolism.
INGREDIENT INFORMATION
Support energy productionB-vitamins are necessary for many processes in the body, especially when there are increased demands due to physical and mental stress. B-vitamins assist in converting food into energy and participate in many biochemical processes in the body, including the production of energy and promoting stamina and endurance during times of stress.
PRODUCT BENEFITS
▪ 26 specifically selected ingredients to support women's wellness
▪ High strength B-vitamins and folic acid
▪ Contains minerals in well-absorbed forms
APPROVED LABEL CLAIM
Microgenics Women's Wellness Multivitamin contains vitamins and minerals that maintain general health and wellbeing. It has been specifically formulated with riboflavin which maintains hair and nail growth, and Vitamin C which supports collagen production. It also provides B Vitamins which support energy production. üüWith vitamins and minerals to support women's health and wellbeing.
CUSTOMER PROFILE
▪ Women of all ages
▪ Women with a busy lifestyle
▪ Women with an active lifestyle
▪ Stressed women
▪ Tired women
INGREDIENTS (per capsule)
Betacarotene 1.5mg
Thiamine hydrochloride 75mg
Equiv. to Thiamine (Vitamin B1) 67mg
Riboflavin (Vitamin B2) 75mg
Nicotinamide 75mg
Calcium pantothenate 75mg
Equiv. to Pantothenic acid (Vitamin B5) 69mg
Pyridoxine hydrochloride 75mg
Equiv. to Pyridoxine (Vitamin B6) 62mg
Folic Acid 500micrograms
Cyanocobalamin (Vitamin B12) 50micrograms
Calcium ascorbate dihdyrate 243mg
Equiv. to Ascorbic acid (Vitamin C) 200mg
Colecalciferol (Vitamin D3 500IU) 12.5micrograms
d-alpha Tocopheryl acid succinate (Vitamin E 50IU) 41mg
Citrus bioflavonoids extract 50mg
Biotin 100micrograms
Choline bitartrate 20mg
Inositol 20mg
Boron (from Borax) 1mg
Calcium (as Calcium citrate tetrahydrate) 40mg
Chromium (from Chromium picolinate) 45micrograms
Copper (from Cupric sulfate pentahydrate) 250micrograms
Iron (from Ferrous fumarate) 5mg
Magnesium (from Magnesium amino acid chelate) 50mg
Manganese (from Manganese amino acid chelate) 1mg
Potassium (from Potassium citrate) 20mg
Iodine (from Potassium iodide) 100micrograms
Selenium (from Selenomethionine) 26micrograms
Zinc (from Zinc amino acid chelate) 12mg
CONTAINS NO ADDED
Weat, gluten, yeast, dairy products, egg, artificial flavours, preservatives
or sweeteners.
STORAGE INFORMATION
Store below 30°C, away from children. Take in conjunction with a healthy
balanced diet.
SUMMARISED
▪ Many Australian women are not getting adequate levels of essential vitamins and minerals through their diet.
▪ This formula contains a blend of vitamins and minerals targeted to support women's wellness, including all B-vitamins, folic acid, Vitamin D, magnesium and calcium.
▪ This formula helps support healthy hair, skin and nails; energy production; moods; and conversion of carbohydrates, proteins and fat into energy
DOSE
Adults, take 1 capsule once daily, with meals, or as directed by your healthcare professional.
CAUTIONS/CONTRAINDICATIONS
WARNING: Stop taking this medication if you
experience tingling, burning or numbness and see
your healthcare professional as soon as possible
(contains Vitamin B6). This medicine contains
Selenium which is toxic in high doses. A daily dose
of 150micrograms for adults of Selenium from
dietary supplements should not be exceeded.
Vitamins and minerals can only be of assistance if
dietary intake is inadequate. If symptoms persist,
seek the advice of a healthcare professional.
Always read the label. Take only as directed. Do
not use if tamper evidence seal is missing, torn or
broken. Contains soy and sulfites.
MEDICINE INTERACTIONS
If taking prescription medication or if in doubt
consult your healthcare professional.