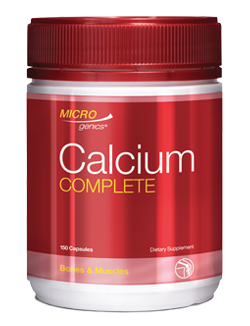 Microgenics Calcium Complete 150 Capsules
Did you know that 90% of the skeleton is formed and mature by the time women reach the age of 18 and men the age of 20? This means that looking after your bones is not only important for 'old people', but even more so for teenagers and those in their early twenties.
Regular physical activity is important to maintain and improve bone density. But alongside physical activity, there are several minerals that play an important role in the maintenance of healthy bones.
Calcium and vitamin D are the best-known minerals and vitamins for bone health, but magnesium, manganese and phosphorus, as well as Vitamin K, also play a vital role.
INGREDIENT INFORMATION
Calcium to support strong bones
Calcium is the most abundant mineral in the body, and is crucial for growing new bone and maintaining bone strength. Calcium deficiency can lead to osteoporosis – weak and easily broken bones – and its precursor, osteopenia. Therefore, maintaining adequate calcium levels is important to prevent osteoporosis1.
In addition to improving bone and tooth strength, some of the body's calcium is used for muscle function and nerve transmission. This formula contains two different forms of calcium: calcium citrate and hydroxyapatite.
Research shows that calcium citrate has better bioavailability than the commonly used calcium carbonate, meaning the body can absorb and utilise it better than the other form. It is also a better form of calcium for people with low stomach acid or people over the age of 502.
Hydroxyapatite is a form of calcium that is derived from whole bone extract and contains a complex of other minerals and proteins that make up bone as well. Research has shown that, like calcium citrate, it has better bioavailability than the commonly used calcium carbonate3. Women's calcium requirements are increased after menopause and calcium supplementation may be of assistance in the prevention and/or treatment
of osteoporosis.
Vitamin D3 to assist with calcium absorption
Vitamin D3 plays an important role in bone formation. It promotes the absorption of dietary calcium from the digestive tract and helps maintain optimal blood calcium levels for its various vital functions, including bone formation4.
Vitamin K2 and Boron to support bone mineralisation
Vitamin K2 is an often-overlooked bone-building nutrient, but research has shown it plays a vital role in making sure calcium stays in the bones and doesn't leak back into the bloodstream. Not getting enough vitamin K2 from the diet may lead to weaker bones and an increased risk at fractures5. Boron has a favourable impact on calcium metabolism and therefore has a role in the maintenance of normal bone.
Zinc, magnesium, manganese, horsetail
Calcium absorption depends on zinc levels, with low zinc levels leading to poorer calcium absorption. This makes zinc essential for bone building and bone healing7.
Magnesium is also important for building and maintaining strong, healthy bones, and low levels increase the risk of osteoporosis8, as does manganese9. Horsetail is high in silica, a mineral that helps with mineralisation of the bone and improve bone density10.
SUMMARISED
▪ This formula contains calcium in 2 forms that are well absorbed and utilised in the body
▪ Vitamin D3 and K2 help improve bone health
▪ It contains additional minerals that are essential to maintain healthy, strong bones
APPROVED LABEL CLAIM
Microgenics Calcium Complete has been formulated with vitamins and minerals
that support bone health. It contains Calcium and Vitamin D which support bone
strength and along with Vitamin K, help support bone mineralisation. Calcium
may help prevent osteoporosis when dietary Calcium intake is inadequate.
Vitamin D helps Calcium absorption and a diet deficient in Calcium can lead to
osteoporosis in later life.
üüCalcium supports bone strength
üüA diet deficient in Calcium can lead to osteoporosis in later life. Calcium may help prevent osteoporosis when dietary intake is inadequate
INGREDIENTS (per capsule)
Calcium citrate tetrahydrate 635mg
Equiv. to Calcium 133mg
Hydroxyapatite 278mg
Equiv. to Calcium 67mg
Equiv. to Phosphorus 25mg
TOTAL CALCIUM 200mg
Magnesium oxide 166mg
Equiv. to Magnesium 100mg
Manganese amino acid chelate 3.35mg
Equiv. to Manganese 670micrograms
Borax 5.91mg
Equiv. to Boron 670micrograms
Zinc gluconate 4.69mg
Equiv. to Zinc 670micrograms
Colecalciferol (Vitamin D3 333IU) 8.33micrograms
Menaquinone 7 50micrograms
Equisetum arvense (Horsetail) extract
Equiv. to herb top dry 33.4mg
CONTAINS NO ADDED
Wheat, gluten, yeast, dairy products, egg, artificial flavours, preservatives or sweeteners.
STORAGE INFORMATION
Store below 30°C, away from children. Take in conjunction with a healthy balanced diet.
DOSE
Adults, take 3 capsules daily, with meals, or as directed by your healthcare professional.
CAUTIONS/CONTRAINDICATIONS
Vitamins and minerals can only be of assistance if dietary intake is inadequate. If symptoms persist seek the advice of a healthcare professional.
Always read the label. Take only as directed. Do not use if tamper evidence seal is missing, torn or broken. Contains sulfites.
MEDICINE INTERACTIONS
If taking prescription medication or if in