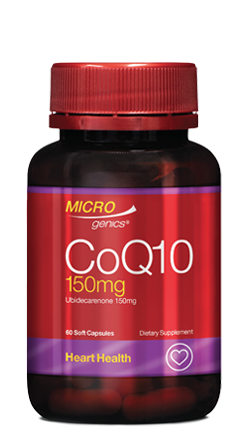 Microgenics CoQ10 150mg 60 Capsules
INGREDIENT INFORMATION
Supports energy production
There are approximately 100 trillion cells in the human body, and each produces its own energy to function properly. Coenzyme Q10 is involved in energy production and acts as a catalyst, making it possible for the mitochondria – the powerhouse of the cell – to produce energy. Low levels of Coenzyme Q10 in the body can lead to feeling tired or fatigued, especially as we age. Coenzyme Q10 levels start to decline after the age of twenty, and see a sharp drop-off after forty. The highest concentrations of Coenzyme Q10 are found in the heart and the liver1, and low Coenzyme Q10 levels in these areas can lead to health problems.
Helps reduce free radical damage to body cells Coenzyme Q10 acts as an antioxidant to protect cells from free radical damage. Excessive amounts of free radicals can cause oxidative damage which can interfere with the proper function of the cell. If a cell is not functioning properly, it may lead to health issues.
Supports cardiovascular health
Research shows that Coenzyme Q10 may have significant positive impact on heart health by reducing the risk of a repeat heart attack, improving outcomes in patients with heart failure and lowering blood pressure2. Cardiovascular disease (CVD) – Taking Coenzyme Q10 supplements can significantly increase HDL-Cholesterol levels ('good cholesterol), even in those taking statin drugs3. Coenzyme Q10 may also help lower levels of inflammatory biomarkers such as high sensitivity C reactive protein (hsCRP), which can be risk factors for CVD4. High blood pressure – Research shows that Coenzyme Q10 has the potential to lower systolic blood pressure by up to 17 mm Hg and diastolic pressure by 10 mm Hg without significant side effects5.
Fatigue and muscle pain in statin use
Fatigue and muscle pain are common side effects of the use of statin drugs (medication to lower cholesterol levels). Up to 25% of those taking statins experience these symptoms and for 60% of those, the fatigue and pain are so severe they discontinue treatment6.
Studies show that taking a Coenzyme Q10 supplement can help reduce muscle pain and fatigue as a result of statin use. This may lead to better patient compliance with statin medication, and help them achieve better health outcomes7,8. Coenzyme Q10 is fat-soluble causing it to be poorly absorbed in the watery environment of the digestive tract. Taking Coenzyme Q10 supplements with meals can help improve absorption by up to three times compared to taking it without food due to the fact most meals include fats9.
Migraines
While the underlying causes for migraines are still unclear, it is believed that Coenzyme Q10 deficiency may play a role in chronic migraines. For this reason, a number of clinical studies assessed if Coenzyme Q10 could be beneficial and found that supplementing with this nutrient could help reduce the severity, duration and frequency of migraines10,11. Immune support in periodontitis A little-known fact is that Coenzyme Q10 plays a role in the development and treatment of gum disease. Gum disease often starts as gingivitis but frequently progresses into periodontitis, and is a widespread problem in western countries.
In Australia, 23% of the adult population suffers from periodontitis12. As early as the 1970s researchers found that gum tissue in people with periodontal disease was deficient in Coenzyme Q10 and that diseased tissue had lower levels of Coenzyme Q10 than normal gum tissue. Scientific research since then has demonstrated that supplementation with Coenzyme Q10 results in a reduction of inflammation, with faster healing and tissue repair13.
Many dentists are now recommending CoQ10 daily in combination with other supplements to help reverse gum disease naturally. Coenzyme Q10 150mg is recommended for young, active people to help with energy production, and for those with periodontal disease.
PRODUCT BENEFITS
▪ High strength
▪ Supplied in oil form for enhanced absorption
APPROVED LABEL CLAIM
Microgenics CoQ10 150mg supports energy production. As an antioxidant Coenzyme Q10 reduces free radicals formed in the body and helps to reduce free radical damage to body cells. It also maintains heathy cardiovascular function, and supports general health and wellbeing.
üüSupports energy production
üüHelps reduce free radical damage to body cells
üüMaintains healthy cardiovascular function
INGREDIENTS (per soft capsule)
Ubidecarenone (Coenzyme Q10) 150mg
CONTAINS NO ADDED
Wheat, gluten, yeast, dairy products, egg, artificial flavours, preservative or sweeteners.
STORAGE INFORMATION
Store below 30°C, away from children. Take in conjunction with a healthy balanced diet.
DOSE
Adults, take 1 soft capsule 1-2 times daily, with meals, or as directed by your healthcare professional.
CAUTIONS/CONTRAINDICATIONS
WARNING: Do not take while on warfarin therapy without medical advice. If symptoms persist seek the advice of a healthcare professional. Always read the label. Take only as directed. Do not use if tamper evidence seal is missing, torn or broken. Contains soy and sulfites.
MEDICINE INTERACTIONS
Do not take while on warfarin therapy without medical advice. If taking prescription medication or if in doubt consult your healthcare professional.