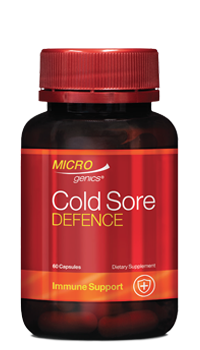 Microgenics Cold sore defence 60 capsules
Cold sores are painful, fluid-filled blisters that commonly appear on or near the lips in clusters or patches. They are caused by the Herpes Simplex Virus (HSV), and are often transmitted through contact with a lesion on an infected person, for instance via kissing or sharing of utensils.
Once contracted, the virus lays dormant, waiting for the perfect environment to produce a cold sore. Common triggers for a cold sore outbreak include stress, sun burn, and low immune status1. Women may also be more susceptible to them prior to their menstrual cycle2.
INGREDIENT INFORMATION
Lysine helps to reduce the occurrence of cold sores A diet high in foods containing the amino acid arginine, such as nuts and chocolate, can contribute to the outbreaks of cold sores, because arginine allows the HSV to grow. Lysine is an amino acid that slows down the growth
and replication of the HSV. Improving lysine levels can speed up recovery time and reduce the chance of recurrent cold sore outbreaks. Research shows lysine supplementation can not only reduce the frequency, but also the duration of a cold sore outbreak3,4,5,6.
Zinc and Vitamin C support skin health
Zinc improves wound healing. It has been demonstrated that zinc deficiency can result in delayed wound healing7. It can help shorten the duration of cold sore outbreaks8.
Many studies have shown that vitamin C supplementation supports wound healing9,10. Vitamin C may also shorten the duration of a cold sore outbreak11.
Echinacea purpurea
Echinacea purpurea has a long history of use as a strong anti-viral, and research has shown that it can be effective against the Herpes Simplex Virus12,13,14.
Olive Leaf Extract
Studies have demonstrated that Olive Leaf Extract is effective against many viruses, including the Herpes Simplex Virus15,16.
SUMMARISED
▪ Lysine can help reduce the duration and frequency of cold sore outbreaks
▪ Olive Leaf Extract and Echinacea support the immune system fighting viruses such as the cold sore virus
▪ Zinc and Vitamin C can help improve wound healing in cold sore lesions
PRODUCT BENEFITS
▪ Capsules for better absorption
▪ Contains Olive Leaf Extract and Echinacea
APPROVED LABEL CLAIM
Microgenics Cold Sore Defence contains Lysine which helps to reduce occurrence of facial cold sores. It also contains Vitamin C and Zinc which supports immune system health and function, plus supports skin health and wound healing.
üüLysine helps to reduce occurrence of facial cold sores
üüVitamin C and Zinc supports healthy immune system function
INGREDIENTS (per capsule)
Lysine hydrochloride 500mg
Ascorbic acid (Vitamin C) 33mg
Zinc gluconate 50mg
Equiv. to Zinc 7.15mg
And herbal extracts equivalent to:
Echinacea purpurea (Echinacea) fresh herb 250mg
Olea europaea (Olive) dry leaf 250mg
Equiv. to Oleuropein 5mg
CONTAINS NO ADDED
Wheat, gluten, yeast, dairy products, egg, artificial flavours, preservatives or sweeteners.
STORAGE INFORMATION
Store below 30°C, away from children. Take in conjunction with a healthy balanced diet.
DOSE
Adults, take 2 capsules once daily, with meals, or as directed by your healthcare professional.
CAUTIONS/CONTRAINDICATIONS
Vitamins and minerals can only be of assistance if dietary intake is inadequate. If symptoms persist seek the advice of a healthcare professional. Always read the label. Take only as directed. Do not use if tamper evidence seal is missing, torn or broken. Contains sulfites. Not suitable for use during pregnancy and breastfeeding.
MEDICINE INTERACTIONS
If taking prescription medication or if in doubt
consult your healthcare professional.