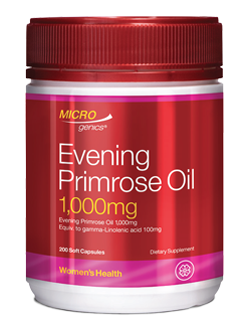 Microgenics Evening Primrose Oil 1,000mg 200 Capsules
INGREDIENT INFORMATION
Natural source of Omega-6 essential fatty acids Evening Primrose Oil (EPO) is extracted from the seeds of the Evening Primrose plant. The seed oil contains up to 25% essential fatty acids (EFA). The EFA's consists of 60-80% linolenic acid (LA) and 8-14% gamma-linolenic acid (GLA). EPO is classified as omega-6 fatty acid.
Supports skin integrity and skin health
The main actions of EPO relate to its EFA content, GLA in particular, which has anti-inflammatory properties, especially for the skin. This makes EPO beneficial in inflammatory skin problems such as acne, dry scaly skin, eczema, dermatitis, and psoriasis.
Research has found that GLA is essential for good skin structure and function, and that supplementing with EPO could help create a smooth skin, improve skin elasticity, moisture, firmness, and fatigue resistance1. Because the skin can't produce GLA on its own, researchers believe taking a GLA-rich EPO supplement can help support overall skin health.
Eczema
Eczema is a common skin disease that can have a significant physical and emotional toll on sufferers and their carers' quality of life. Australia has one of the highest prevalence rates of eczema or atopic dermatitis: 10-15% of the population suffers from it. Research conducted at the University of Melbourne shows that around one in three infants (38.5%) suffer from eczema. Whilst most children with atopic dermatitis grow out of the disease when their skin matures, up to 10% will continue to suffer with eczema into adulthood2. Several clinical studies have shown positive results for the use of EPO in eczema. Eczema patients treated with GLA found in Evening Primrose Oil showed lower levels of inflammation, dryness, scaling and overall severity of the condition3.
Acne
Acne vulgaris affects more than 90% of Australian adolescents aged 16–18 years, and often significantly affects their self-esteem and emotional state. Moderate-tosevere acne can lead to scarring, further impacting on their self-esteem4. Evening Primrose Oil can help improve acne due to its GLA content. GLA is thought to help improve acne by not only reducing skin inflammation, but also by reducing the number of skin cells that cause lesions5. It may also help the skin retain moisture. Research has found that GLA supplementation can help improve both inflammatory and noninflammatory acne lesions6.
May help reduce PMS symptoms
Evening Primrose Oil is not only useful in skin conditions, it may also help support women with premenstrual syndrome (PMS). Almost every woman experiences at least one PMS symptom most months and about 50% of women get several symptoms each month. The classic symptoms include fluid retention, bloating and weight gain, increased appetite, breast swelling and tenderness and mood changes. PMS is uncommon in adolescence, and occurs most frequently in women in their 30s and 40s7. Researchers believe some women experience PMS because they are sensitive to normal prolactin levels in the body. GLA converts to a substance in the body called PGE1, which is thought to help prevent prolactin from triggering PMS8. The GLA in Evening Primrose Oil is also thought to help reduce inflammation by inhibiting prostaglandins that cause breast pain before menstrual periods. Research has found that taking daily doses of Evening Primrose Oil for six months decreased the severity of cyclical breast pain9.
May help reduce hot flashes during menopause
Evening Primrose Oil may reduce the severity of hot flashes, one of the most uncomfortable side effects of menopause. Research has found that women who take 500mg daily of Evening Primrose Oil for 6 weeks experienced less frequent, less severe, and shorter hot flashes10.
SUMMARISED
▪ Evening Primrose Oil is rich in omega-6 fatty acids
▪ Omega-6 fatty acids are essential to keep the skin healthy, and may help improve eczema and acne
▪ Evening Primrose Oil may help improve PMS and hot flashes during menopause
PRODUCT BENEFITS
▪ High strength Fenugreek
▪ Capsules for convenience
▪ Capsules for better absorption
APPROVED LABEL CLAIM
Microgenics Fenugreek 2000 contains Fenugreek seed which is traditionally used in Western Herbal Medicine as a galactagogue, to improve breast milk production in breastfeeding women. It is also used in Western Herbal Medicine to improve a healthy appetite, relieve appetite loss and reduce symptoms of indigestion
üüFenugreek is traditionally used in Western Herbal Medicine to improve breast milk production in breastfeeding women
INGREDIENTS (per capsule)
Trigonella foenum-graecum (Fenugreek) extract
Equiv. to dry seed 2g (2,000mg)
CONTAINS NO ADDED
Wheat, gluten, yeast, dairy products, egg, artificial flavours, preservatives or sweeteners.
STORAGE INFORMATION
Store below 30°C, away from children. Take in conjunction with a healthy balanced diet.
DOSE
Adults, take 1 capsule three times daily, with meals, or as directed by your healthcare professional.
CAUTIONS/CONTRAINDICATIONS
If you are concerned about the health of yourself
of your baby, please consult with your healthcare
practitioner. If symptoms persist seek the advice of
healthcare professional. Always read the label. Take
only as directed. Do not use if tamper evidence
seal is missing, torn or broken. Contains sulfites.
Safety during pregnancy not established.
MEDICINE INTERACTIONS
If taking prescription medication or if in doubt consult your healthcare professional.