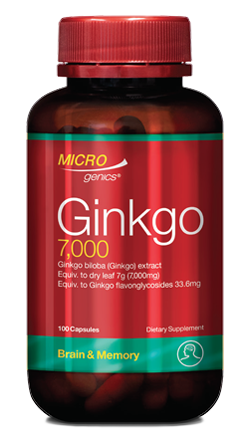 Microgenics Ginkgo 7000 100 Capsules
Ginkgo biloba is one of the oldest plants in the world and is often referred to as a "living fossil." Gingko biloba extracts are one of the most commonly taken herbal remedies worldwide, and with over 400 studies, one of the best-researched ones1.
Gingko is a powerful aid to circulatory problems and has strong antioxidant properties to protect both the central nervous system and the cardiovascular system from damage and the effects of ageing.
INGREDIENT INFORMATION
Support memory and concentration
Gingko has traditionally been used to support memory and concentration. It does this by increasing the blood flow to the brain. Reduced blood flow to the brain has been linked to memory loss, confusion and dizziness. Scientific research has shown that supplementing with gingko can help improve blood flow to the brain, and as a result improve memory and concentration2. Interestingly, the leaves of the Gingko biloba tree have the same shape as the two halves of our brain. This is a nice visual to help you remember what Ginkgo is used for.
Support cognition
Gingko can also be used to help improve cognition. Studies have shown that it can help improve cognition in those with mild to moderate cognitive impairment when used long-term (approximately 6 months)3,4.
Support circulation
Ginkgo is not only beneficial to improve the circulation to the brain, but also to the peripheral areas of the body, such as hands and feet. Research found that the blood flow to the small blood vessels in nailbeds increased by 57% 1 hour after taking a gingko supplement5. For this reason, it may be a useful herb for those who suffer from cold hands and feet due to poor circulation.
Support with tinnitus
Ringing in the ears is a symptom that can have many underlying causes, including problems with the circulation. Ginkgo leaf contains antioxidants that help promote circulation, and flavonoids and terpenoids that protect the nerves and blood vessels from free radicals. This combination can help reduce or prevent the phantom noises that irritate the ear, called 'tinnitus'6.
SUMMARISED
▪ Gingko can help improve memory, focus and cognition
▪ Gingko can help improve circulation to the peripheral areas of the body, such as hands and feet
▪ Gingko can help improve tinnitus (ringing of the ear)
PRODUCT BENEFITS
▪ High strength formula
▪ Capsule for convenience and better absorption
APPROVED LABEL CLAIM
Microgenics Ginkgo 7,000 contains Ginkgo biloba leaf extract, a source of antioxidants which reduce free radicals formed in the body. Ginkgo also supports cognitive function, focus and mental clarity as well as memory and mental recall. Ginkgo supports blood flow to the peripheral areas of the body such as legs, hands and feet.
üüGinkgo supports cognitive function
üüMaintains mental concentration, focus and clarity
üüMaintains memory and mental recall
INGREDIENTS (per capsule)
Ginkgo biloba (Ginkgo) dry extract
Equiv. to dry leaf 7g (7,000mg)
Equiv. to Gingko flavonglycosides 33.6mg
CONTAINS NO ADDED
Wheat, corn, gluten, yeast, dairy products, egg, artificial flavours, preservatives or sweeteners.
STORAGE INFORMATION
Store below 30°C, away from children. Take in conjunction with a healthy balanced diet.
CUSTOMER PROFILE
▪ Poor memory and concentration
▪ Ageing population
▪ Tinnitus (ringing of the ears)
▪ Cold hands and feet due to poor circulation
DOSE
Adults, take 1 capsule 1-2 times daily, with meals, or as directed by your healthcare professional.
CAUTIONS/CONTRAINDICATIONS
If symptoms persist seek the advice of a healthcare professional. Always read the label. Take only as directed. Do not use if tamper evidence seal is missing, torn or broken. Contains sulfites. Not suitable for use during pregnancy and breastfeeding.
MEDICINE INTERACTIONS
If taking prescription medication or if in doubt consult your healthcare professional.