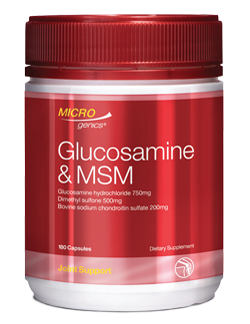 Microgenics Glucosamine & MSM 180 Capsules
Joint pain is one of the most common health problems in Australia. In 2014-15, 15.3% of Australians (3.5 million people) had arthritis, with prevalence higher amongst women than men (18.3% compared with 12.3%). Of those suffering with arthritis, 58.9% had osteoarthritis (deterioration of cartilage inside a joint due to wear and tear), 11.5% had rheumatoid arthritis (an autoimmune disease that affects the cartilage of the joints) and 34.8% had an unspecified type of arthritis.
The prevalence of arthritis increases with age, particularly for women. Women aged 55 years and over are more likely to have arthritis than men (51.4% compared with 35.2%)1.
INGREDIENT INFORMATION
Glucosamine supports joint health and mobility
Glucosamine occurs naturally in the body. It is found in the fluid around the joints and is one of the building blocks of cartilage. Cartilage is the substance that covers and protects the ends of the bones, and that allows the bones to move smoothly against each other.
Research shows that glucosamine helps protect the cartilage inside the joints in several ways2. Firstly, glucosamine stimulates the production of glycosaminoglycans (GAGs), which are building blocks of cartilage. The more GAGs the body produces, the more building blocks are available to create healthy cartilage, and prevent wear and tear. Secondly, GAGs are involved in the production of other structures around the joint tissue, such as tendons and synovial fluid; and are thought to stimulate production of hyaluronic acid. Hyaluronic acid helps the synovial fluid in the joint capsule to lubricate the joint, and also acts as a shock absorber to protect the joint.
Thirdly, glucosamine may reduce collagen breakdown, slowing down the wear and tear of the joint tissue3,4. Finally, glucosamine can help reduce inflammation in the joint. Inflammation not only causes pain and may limit the range of motion of the joint, but is also one of the main causes of joint cartilage breakdown in osteoarthritis patients5. Reducing pain and swelling of the joint may help improve the quality of life for those suffering from joint pain, and reducing inflammation may slow down wear and tear of the joint cartilage.
However, those wanting to use Glucosamine to help improve their painful joints, should be aware that it may take up to 12 weeks before results are noticeable. Glucosamine is not a supplement that shows instant results.
Chondroitin supports healthy joint cartilage production
Chondroitin gives cartilage its elasticity by helping it to retain water. Thus, it is an important nutrient to keep joint cartilage healthy6. Studies have found that chondroitin can reduce the activity of enzymes and substances that break down collagen in joints7 while yet other research has demonstrated that it has anti-inflammatory properties8 and can also stimulate repair mechanisms. It is through those combined properties that chondroitin can help reduce joint pain and help improve joint mobility in those suffering from arthritis.
Several studies have shown that a combination of chondroitin and glucosamine is effective in reducing inflammation and cartilage breakdown, as well as to help improve joint pain in arthritis9,10.
MSM
Methylsulfonylmethane (MSM) is a form of sulphur and supports healthy connective tissues such as tendons, ligaments, and muscles, which are all involved in keeping a joint stable and functioning properly.
Studies show that supplementing with MSM may help improve joint pain and joint swelling, and reduce joint inflammation in people with osteoarthritis11,12. In one trial this effect was greater when MSM was combined with glucosamine13.
SUMMARISED
▪ Glucosamine can help protect the cartilage inside the joints
▪ Chondroitin can help keep the cartilage inside the joints spongy and healthy
▪ MSM can help keep the joint stable and functioning properly
▪ Combined, these ingredients can help reduce pain, swelling and inflammation in osteoarthritis.
▪ Glucosamine supplements need to be taken for at least 12 weeks before results are noticed.
PRODUCT BENEFITS
▪ Contains chondroitin and high strength MSM for optimal joint health
▪ Capsules for convenience and better absorption
APPROVED LABEL CLAIM
Microgenics Glucosamine & MSM contains Glucosamine and Chondroitin sulfate which support joint health. Glucosamine maintains joint mobility and Chondroitin sulfate helps support healthy joint cartilage production and relieves symptoms of mild osteoarthritis such as mild joint aches and pains.
üüGlucosamine and Chondroitin support joint health
üüGlucosamine maintains joint mobility
üüChondroitin relieves symptoms of mild osteoarthritis such as mild joint aches and pains
INGREDIENTS (per capsule)
Glucosamine hydrochloride 750mg
Dimethyl sulfone (MSM) 500mg
Bovine sodium chondroitin sulfate 200mg
CONTAINS NO ADDED
Wheat, corn, gluten, yeast, dairy products, egg, artificial flavours, preservatives or sweeteners.
STORAGE INFORMATION
Store below 30°C, away from children. Take in conjunction with a healthy balanced diet.
DOSE
Adults, take 2 capsules 1-2 times daily, with meals, or as directed by your healthcare professional.
CAUTIONS/CONTRAINDICATIONS
Derived from seafood (crustacea). If symptoms persist seek the advice of a healthcare professional. Always read the label. Take only as directed. Do not use if tamper evidence seal is missing, torn or broken. Contains sulfites. Not suitable for use during pregnancy and breastfeeding.
MEDICINE INTERACTIONS
If taking prescription medication or if in doubt consult your healthcare professional.