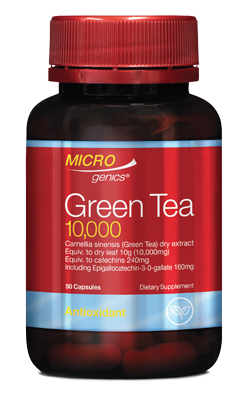 Microgenics Green Tea 10,000 50 Capsules
Green tea is made from the same plant as black tea: Camellia sinensis. The processing that the leaves undergo after harvesting determines if the tea is black or green. The leaves for black tea are fully oxidised, while those for green tea are lightly steamed before being dried. Of the two, green tea is considered to have the strongest therapeutic effect because it has a higher anti-oxidant content.
INGREDIENT INFORMATION
Helps reduce free radicals formed in the body Antioxidants are free radical scavengers and may help with a healthy ageing
process. Excessive exposure to oxidants (free radicals) or oxidative stress has been linked to a faster ageing process, and result in visible signs of wrinkles and a lined skin.
Research shows that free radical damage may be a central process of ageing and that ageing is a process of oxidising. Because green tea is high in antioxidants, it may assist in a healthy ageing process1.
Antioxidants can help improve memory and learning
Green tea has a long traditional history of improving mental clarity, cognition and energy levels. Scientific research on green tea's antioxidants L-theanine and epigallocatechin gallate (EGCG) has repeatedly demonstrated the benefits they have on energy levels, mood and cognitive performance2.
Antioxidants support oral health
The antioxidants in green tea can also help improve oral health specifically. The catechins in green tea can inhibit the growth of Streptococcus mutans, which can cause plaque formation and is believed to be a leading contributor to cavities and tooth decay. Green tea can help improve dental health and a lower risk of caries3.
Antioxidants support the immune system
Scientific studies have found that antioxidants epigallocatechin gallate (EGCG) in green tea support a healthy immune response by stopping viruses from replicating4, and inhibiting the growth of many types of bacteria5.
Antioxidants can support detoxification
Green tea polyphenols have also been shown to increase levels of phase II antioxidant enzymes6. Detoxification occurs in two steps in the body. Phase I either directly neutralises a toxin, or modifies the toxin to form to an intermediate. The intermediate is then neutralised and eliminated by phase II enzyme systems. It is common in Western society for the phase II detoxification to not be working efficiently. This can result in the recirculation of toxins, which can contribute to many symptoms such as fatigue and poor memory. Green tea can boost the effectiveness of enzymatic phase II detoxification and thus help remove toxins from the body7.
Antioxidants can support healthy blood fats
The polyphenolic compounds present in Green tea are believed to assist in lowering total cholesterol and LDL ('bad' fats)8,9.
SUMMARISED
▪ Green Tea is high in antioxidants to support a healthy ageing process
▪ Antioxidants in Green Tea may help improve memory and learning
▪ Antioxidants in Green Tea may support the immune system and improve oral health
PRODUCT BENEFITS
▪ Capsules for convenience
APPROVED LABEL CLAIM
Microgenics Green Tea 10,000 is a source of antioxidants which reduce free radicals formed in the body. Green Tea helps to support general health and wellbeing.
üüAntioxidants help reduce free radicals formed in the body
üüSupports general health and wellbeing
INGREDIENTS (per capsule)
Camellia sinensis (Green Tea) extract
Equiv. to dry leaf 10g (10,000mg)
Equiv. to catechins 240mg
Including Epigallocatechin- 3-0-gallate 160mg
CONTAINS NO ADDED
Wheat, corn, gluten, yeast, dairy products, egg, artificial flavours, preservatives or sweeteners.
STORAGE INFORMATION
Store below 30°C, away from children. Take in conjunction with a healthy balanced diet.
CUSTOMER PROFILE
▪ Wants to support a healthy ageing process
▪ Is looking for a product with antioxidants
DOSE
Adults, take 1-2 capsules once daily, with meals, or as directed by your healthcare professional.
CAUTIONS/CONTRAINDICATIONS
Contains caffeine not more than 20mg per capsule. If symptoms persist seek the advice of a healthcare professional. Always read the label. Take only as directed. Do not use if tamper evidence seal is missing, torn or broken. Contains sulfites. Not suitable for use during pregnancy and breastfeeding.
MEDICINE INTERACTIONS
If taking prescription medication or if in doubt consult your healthcare professional.