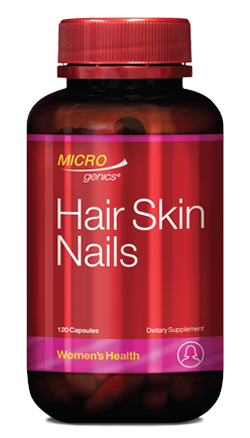 Microgenics Hair Skin Nails 120 Capsules
There is truth in the old adage that beauty comes from within. Microgenics Hair Skin Nails is a quality formula with vitamins and mineral specifically designed to support collagen production. Collagen is the most abundant protein in the human body, and is the substance that holds the body together. It acts as a supporting structure, a bit like a scaffold, and anchors cells to each other.
It is what gives our skin strength and elasticity, keeps our nails strong, and our hair lustrous. As we age, our bodies produce less collagen, and the structural integrity of our skin, nails and hair declines. As a result, lines and wrinkles form in our skin, nails become more brittle and hair starts to lose its shine and become thinner. Microgenics Hair Skin Nails contains several nutrients that are vital to collagen production, and may help hair look glossy, skin radiant and nails healthy again.
INGREDIENT INFORMATION
Biotin for strong nails and healthy hair
Biotin is a vitamin that is sometimes referred to as vitamin B7 or vitamin H, and is a building block for collagen. Research shows that nail thickness improves in those with brittle nails after taking a biotin supplement. As it takes nails 3-4 months to grow from bottom to top, it may take that time frame before results are noticed1,2,3. Biotin is also associated with healthy, strong hair, and a deficiency may lead to hair loss
Biotin deficiency can result in red, scaly skin rashes around body orifices4 and supplementing with biotin can help improve skin health.
Vitamin C to support skin health
Vitamin C plays a part in the production of collagen5 and can thus help support healthy hair, skin and nails. It is also an antioxidant and protects the skin against free radical damage. Free radicals can damage the skin and speed up the ageing process, resulting in a lined and wrinkled skin. Vitamin C neutralises those free radicals and thus helps protect the skin from damage.
Silica to support connective tissues
Silica is found in all connective tissue. It is a building block for collagen, and reinforces the structure of hair and skin. Low levels of silica have been associated with brittle nails, weak and dry hair, poor wound healing and skin conditions. Clinical research has shown that women with
sun-damaged skin who supplemented with 10mg silica per day noticed after 20 weeks a decrease in skin roughness and less brittle nails and hair compared to the placebo group6.
Iron to transport oxygen
Iron is required for the creation of red blood cells and is an integral part of haemoglobin. Haemoglobin transports oxygen around the body. Impaired oxygen transport can result in brittle, peeling or ridged nails7, hair loss8 and poor wound healing9.
Milk Thistle is an antioxidant
Milk Thistle is high in antioxidants and may help to promote healthy skin. Research has found that milk thistle can help improve inflammatory skin conditions10.
Zinc to support collagen production
Zinc plays an important role in the production of collagen, supporting a strong and flexible skin. As we age, the skin starts to lose its strength and flexibility, and this contributes to the development of lines and wrinkles. By supplementing with zinc, we can help improve skin health.
Zinc is required for the normal division of hair follicle cells, leading to healthier hair growth. Below optimal levels of zinc can impact on hair growth. Data from the Australian Bureau of Statistics indicates that more than one in three Australian
males and one in ten Australian females don't obtain the recommended amounts of zinc from their daily diets11.
SUMMARISED
▪ Biotin, silica and zinc are necessary to product collagen for healthy hair, skin and nails
▪ This formula contains biotin and silica in clinically researched levels
▪ This product may need to be taken for 3 months before results are noticed
PRODUCT BENEFITS
▪ High levels of biotin and silica
▪ Contains St Mary's Thistle
▪ Convenient 1-a-day dose
▪ Capsule for better absorption
APPROVED LABEL CLAIM
Microgenics Hair Skin Nails contains selected nutrients, which support the health of the hair, skin and nails and general health and wellbeing. Biotin, Zinc and Silica support skin, hair and nail health. Vitamin C and Silica maintain collagen formation and Zinc and Silica support the integrity of the skin. Biotin improves nail thickness and decreases nail splitting in females, whilst the antioxidant Zinc supports skin regeneration and assists protein synthesis in the body.Folic Acid supports maternal health and healthy pregnancy.
üüContains selected nutrients which support the health
of the hair, skin and nails
INGREDIENTS (per capsule)
Biotin 2.6mg
Calcium ascorbate dihydrate 61mg
Equiv. to Ascorbic acid (Vitamin C) 50mg
Ferrous fumarate 15.5mg
Equiv. to Iron 5mg
Colloidal anhydrous silica 86mg
Equiv. to Silicon 40mg
Zinc gluconate 105mg
Equiv. to Zinc 15mg
AND
Silybum marianum (Milk thistle) extract
Equiv. to dry seed 1g (1,000mg)
CONTAINS NO ADDED
Wheat, corn, gluten, yeast, dairy products, egg, artificial flavours, preservatives or sweeteners.
STORAGE INFORMATION
Store below 30°C, away from children. Take in conjunction with a healthy balanced diet.
DOSE
Adults, take 1 capsule once daily, with meals, or as directed by your healthcare professional.
CAUTIONS/CONTRAINDICATIONS
Vitamins and minerals can only of assistance if dietary intake is inadequate. If symptoms persist seek the advice of a healthcare professional. Always read the label. Take only as directed. Do not use if tamper evidence seal is missing, torn or broken. Contains soy and sulfites.
MEDICINE INTERACTIONS
If taking prescription medication or if in doubt consult your healthcare professional.
CUSTOMER PROFILE
▪ Dry, lifeless hair
▪ Thin, brittle nails
▪ Poor skin tone and texture
▪ Looking for beauty products