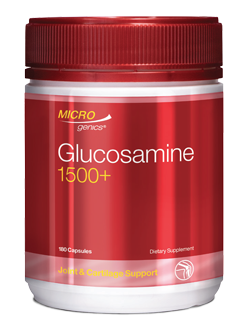 Microgenics Glucosamine 1500+ 180 Capsules
Joint pain is one of the most common health problems in Australia. In 2014-15, 15.3% of Australians (3.5 million people) had arthritis, with prevalence higher amongst women than men (18.3% compared with 12.3%). Of those suffering with arthritis, 58.9% had osteoarthritis (deterioration of cartilage inside a joint due to wear and tear), 11.5% had rheumatoid arthritis (an autoimmune disease that affects the cartilage of the joints) and 34.8% had an unspecified type of arthritis.
The prevalence of arthritis increases with age, particularly for women. Women aged 55 years and over are more likely to have arthritis than men (51.4% compared with 35.2%)1.
INGREDIENT INFORMATION
Glucosamine supports joint health and mobility
Glucosamine occurs naturally in the body. It is found in the fluid around the joints and is one of the building blocks of cartilage. Cartilage is the substance that covers and protects the ends of the bones, and that allows the bones to move smoothly against each other.
Research shows that glucosamine helps protect the cartilage inside the joints in several ways2. Firstly, glucosamine stimulates the production of glycosaminoglycans (GAGs), which are building blocks of cartilage. The more GAGs the body produces, the more building blocks are available to create healthy cartilage, and prevent wear and tear. Secondly, GAGs are involved in the production of other structures around the joint tissue, such as tendons and synovial fluid; and are thought to stimulate production of hyaluronic acid. Hyaluronic acid helps the synovial fluid in the joint capsule to lubricate the joint, and also acts as a shock absorber to protect the joint.
Thirdly, glucosamine may reduce collagen breakdown, slowing down the wear and tear of the joint tissue3,4. Finally, glucosamine can help reduce inflammation in the joint. Inflammation not only causes pain and may limit the range of motion of the joint, but is also one of the main causes of joint cartilage breakdown in osteoarthritis patients5. Reducing pain and swelling of the joint may help improve the quality of life for those suffering from joint pain, and reducing inflammation may slow down wear and tear of the joint cartilage. However, those wanting to use Glucosamine to help improve their painful joints, should be aware that it may take up to 12 weeks before results are noticeable. Glucosamine is not a supplement that shows instant results.
Supports healthy joint cartilage production
Chondroitin gives cartilage its elasticity by helping it to retain water6. Research shows that chondroitin can reduce the activity of enzymes and substances that break down collagen in joints7, has several anti-inflammatory properties8 and can also stimulate repair mechanisms. Several studies have shown that a combination of chondroitin and glucosamine is effective in reducing inflammation and cartilage breakdown, as well as to help improve joint pain in arthritis9,10.
Proline
Proline is an amino acid involved in the formation of collagen, regeneration of cartilage, forming of connective tissue, and repairing joints11.
Ginger
Ginger is traditionally used as an anti-inflammatory. Many clinical studies show that it can be beneficial in swollen and painful joints, e.g. in osteoarthritis and rheumatoid arthritis12,13,14.
Turmeric and Black Pepper
Traditional Ayurvedic and Chinese medicine systems have used turmeric for the treatment of inflammatory disorders for centuries. Turmeric can block several inflammatory pathways in the body, and thus bring relief in painful, swollen and stiff joints as seen in osteoarthritis15,16,17. Turmeric has been shown to be effective in improving joint stiffness and swelling in those with rheumatoid arthritis18, and in improving joint pain, swelling and mobility in osteoarthritis19,20. Black pepper has been added to this formula to increase bioavailability of curcumin by up to 2000%21.
SUMMARISED
▪ Glucosamine can help protect the cartilage inside the joints
▪ Chondroitin can help keep the cartilage inside the joints spongy and healthy
▪ Ginger and Turmeric can help improve joint pain and inflammation
▪ Black pepper enhances the absorption of Turmeric
PRODUCT BENEFITS
▪ Contains turmeric to help reduce pain and inflammation
▪ Contains glucosamine in clinically researched dose
▪ Extra ingredients to help improve swollen, painful joints
APPROVED LABEL CLAIM
Microgenics Glucosamine 1500+ contains glucosamine which maintains joint health and supports mobility and flexibility. Glucosamine is naturally produced in the body and is utilised for the synthesis of glycosaminoglycans (GAG's), components of joint tissue, such as cartilage, tendons, ligaments and synovial fluid.
üüGlucosamine maintains joint health
üüGlucosamine supports joint mobility and flexibility
INGREDIENTS (per capsule)
Glucosamine sulfate potassium chloride 1.5g (1,500mg)
Bovine sodium chondroitin sulfate 100mg
Proline 50mg
And extracts equivalent to:
Curcuma longa (Turmeric) dry rhizome 625mg
Equiv. to curcuminoids 23.75mg
Zingiber officinale (Ginger) fresh rhizome 1g (1,000mg)
Piper nigrum (Black pepper – BioPerine®) fruit ext. dry concentrate 5mg
Equiv. to dry fruit 102.5mg
CONTAINS NO ADDED
Wheat, gluten, yeast, dairy products, egg, artificial flavours, preservatives or sweeteners.
STORAGE INFORMATION
Store below 30°C, away from children. Take in conjunction with a healthy balanced diet.
CUSTOMER PROFILE
▪ Painful and swollen joints
▪ Limited range of motion in joints
▪ Osteoarthritis
▪ Athletes and those exercising intensively
DOSE
Adults, take 1 capsule twice daily with meals, or as directed by your healthcare professional.
CAUTIONS/CONTRAINDICATIONS
Each capsule contains 190mg of potassium. If you have kidney disease or are taking heart or blood pressure medicines, consult your doctor or pharmacist before use. Keep out of reach of children. If symptoms persist, seek the advice of a healthcare professional. Always read the label. Take only as directed. Do not use if tamper evidence seal is missing, torn or broken. Glucosamine is derived from seafood. Contains crustaceans and sulfites. Not suitable for use during pregnancy and breastfeeding.
MEDICINE INTERACTIONS
If taking prescription medication or if in doubt consult your healthcare professional.