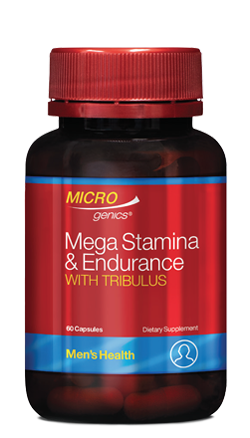 Microgenics Mega Stamina & Endurance with Tribulus 60 Capsules
Panax ginseng to support stamina
Panax ginseng has a long traditional use as an adaptogen. An adaptogen is a substance that helps balance, restore and protect the body during stressful times. It helps the body respond to any influence or stressor, normalising physiological functions. In this capacity, it can help improve cognition and energy levels. Chinese soldiers used to carry Panax into battle to sustain them, and modern research has shown that the herb indeed can increase endurance when taken for at least six weeks7.
Panax ginseng has been shown to successfully improve feelings of calmness8 and has been found to "possess significant anti-stress properties that can be used for the treatment of stress-induced disorders"9. It has been shown to be beneficial to relieve both anxiety and depression as a result of stress10.
Tribulus to improve libido
Tribulus has a long history of use as a tonic and aphrodisiac in traditional medicine. In Ayurvedic medicine it is often recommended for male health including virility and vitality. Tribulus promotes the production of Luteinising Hormone (LH), which stimulates the production of testosterone without over-stimulating it1. Note: Tribulus needs to be taken for at least 8 weeks to see an increase in testosterone levels2,3.
Due to its impact on testosterone levels, Tribulus can help improve sperm count as well as sperm motility when it is taken for 30 days. Most research recommends at least 750 to 1,250 mg per day. Microgenics Mega Stamina & Endurance with Tribulus contains levels higher than this4,5.
Tribulus has a traditional use in India and Pakistan as a treatment for impotence and as a stimulant to enhance sexual drive and performance. Researchers have found that when men with low libido who consumed 750–1,500 mg of Tribulus daily for 8 weeks, saw a significant increase in their sexual desire6. Zinc and selenium have been added to this formula to further support the male reproductive system.
PRODUCT BENEFITS
▪ Contains zinc and selenium to support male health
▪ Convenient 1-a-day dose
▪ Capsules for better absorption
APPROVED LABEL CLAIM
Microgenics Mega Stamina & Endurance with Tribulus contains Korean Ginseng
which is traditionally used in Western Herbal Medicine to maintain energy levels,
support physical endurance and stamina, as well as reduce cognitive fatigue.
Korean Ginseng is traditionally used in Western Herbal Medicine to:
üüMaintain energy levels
üüSupport physical endurance and stamina
INGREDIENTS (per capsule)
Panax ginseng (Korean ginseng) extract
Equiv. to dry root 1g (1,000mg)
Tribulus terrestris (Tribulus) extract
Equiv. to fresh fruit 10g (10,000mg)
Zinc gluconate 52.45mg
Equiv. to Zinc 7.5mg
Selenomethionine 186micrograms
Equiv. to Selenium 75micrograms
SUMMARISED
▪ Tribulus can help support testosterone levels and promote sexual drive
▪ Panax ginseng can help increase endurance and support the body during
times of stress
▪ Both herbs may need to be taken for at least 6-8 weeks before results
are noticeable
CUSTOMER PROFILE
▪ Men feeling tired
▪ Men with low endurance during physical activity
▪ Men with low libido
▪ Men experiencing stress
CONTAINS NO ADDED
Wheat, gluten, yeast, dairy products, egg, artificial flavours, preservatives or sweeteners.
STORAGE INFORMATION
Store below 30°C, away from children. Take in conjunction with a healthy balanced diet.
DOSE
Adults, take 1 capsule, once daily, with meals, or as directed by your healthcare professional.
CAUTIONS/CONTRAINDICATIONS
WARNING: This product contains Selenium
which is toxic in high doses. A daily dose of
150micrograms for adults of Selenium from dietary
supplements should not be exceeded.
Vitamins and minerals can only be of assistance if
dietary intake is inadequate. If symptoms persist
consult your healthcare professional. Always read
the label. Take only as directed. Do not use if
tamper evidence seal is missing, torn or broken.
Contains sulfites.
MEDICINE INTERACTIONS
If taking prescription medication or if in doubt consult your healthcare professional.