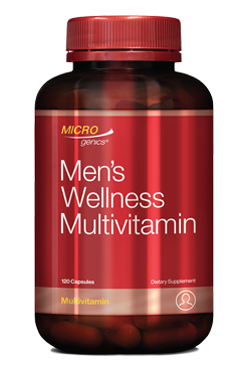 Microgenics Men's Wellness Multivitamin 120 Capsules
It is ideal to obtain the nutrients we need through our food. A balanced diet with plenty of fruits, vegetables, and whole grains offering a mix of vitamins, minerals, and other nutrients which should meet the body's needs. Unfortunately many people don't have a healthy, balanced diet1.
That is why a multivitamin can help fill in the gaps, and help prevent health issues that may arise from deficiencies. Microgenics Men's Wellness Multivitamin is developed to support men's health and wellness, in particular:
▪ Energy levels during times of stress
▪ Moods and nervous system
▪ Red blood cell production
▪ Metabolism convert food into energy
▪ Thyroid health
▪ Prostate health
INGREDIENT INFORMATION
Support energy production
B-vitamins are necessary for many processes in the body, especially when there are increased demands due to physical and mental stress. B-vitamins assist in converting food into energy and participate in many biochemical processes in the body, including the production of energy and promoting stamina and endurance during times of stress.
Support a healthy nervous system
B-vitamins and magnesium play a major role in energy production and the production of neurotransmitters in the brain that assist with cognitive abilities and mood. This formula is designed to support a healthy nervous system for men with busy, demanding lifestyles.Vitamin B6 is required for the synthesis and regulation of many neurotransmitters including GABA and serotonin. A deficiency of Vitamin B6 may affect moods, and taking a supplement with Vitamin B6 may help lift those moods again.
Support healthy red blood cell production
Folic acid, Vitamin B12 and iron are all necessary to support healthy red blood cell production. Red blood cells are needed to carry oxygen to body tissues. If there is not enough oxygen available, this can lead to fatigue, and feelings of lethargy as well as many other health issues.
Support a healthy glucose metabolism
Chromium is a mineral that is well-known to help with the metabolism of carbohydrates, fats and protein. It can help support normal healthy blood sugar levels throughout the day. B-vitamins also help support a healthy glucose metabolism.
Support thyroid health
Selenium and iodine are included in this formula to support a healthy thyroid function. Approximately 10% of Australian men don't get sufficient levels through their diet2. The thyroid helps control many of the body's metabolic processes, such as heart rate, blood pressure, body temperature and weight.
Support prostate health
Saw palmetto is traditionally used to help support a healthy prostate. Tomato is rich in lycopene, an antioxidant that can help protect the prostate. Selenium and zinc can help prevent an enlarged prostate and are essential for healthy sperm as well.
PRODUCT BENEFITS
▪ 22 carefully selected ingredients to support men's wellness
▪ High strength B-vitamins
▪ Contains zinc, saw palmetto and tomato, essential for men's health
APPROVED LABEL CLAIM
Microgenics Men's Wellness Multivitamin contains vitamins and minerals that
support general health and wellbeing. Vitamins and minerals maintain energy
production and support energy levels and maintain cognitive function. Contains
Vitamin B5 that assists the body to cope with environmental stress and
supports healthy stress response in the body. Zinc maintains testosterone levels.
Microgenics Men's Wellness Multivitamin contains nutrients that help protein
synthesis in the body and maintain muscle function.
üüWith vitamins and minerals to support men's health and wellbeing
INGREDIENTS (per capsule)
Betacarotene 1.5mg
Thiamine hydrochloride 75mg
Equiv. to Thiamine (Vitamin B1) 67mg
Riboflavin (Vitamin B2) 75mg
Nicotinamide 75mg
Calcium pantothenate 75mg
Equiv. to Pantothenic acid (Vitamin B5) 69mg
Pyridoxine hydrochloride 75mg
Equiv. to Pyridoxine (Vitamin B6) 62mg
Cyanocobalamin (Vitamin B12) 50micrograms
Ascorbic acid (Vitamin C) 100mg
Colecalciferol (Vitamin D3 500IU) 12.5micrograms
d-alpha Tocopheryl acid succinate (Vitamin E 50IU) 42mg
Biotin 100micrograms
Folic Acid 300micrograms
Chromium (from Chromium picolinate) 45micrograms
Iron (from Ferrous fumarate) 5mg
Magnesium (from Magnesium amino acid chelate) 50mg
Manganese (from Manganese amino acid chelate) 1mg
Iodine (from Potassium iodide) 100micrograms
Selenium (from Selenomethionine) 150micrograms
Zinc (from Zinc amino acid chelate) 15mg
Citrus bioflavonoids extract 50mg
Lycopersicon esculentum (Tomato) dry extract 100mg
From fresh fruit skin 35g (35,000mg)
Serenoa repens (Saw Palmetto) dry extract 125mg
From dry fruit 500mg