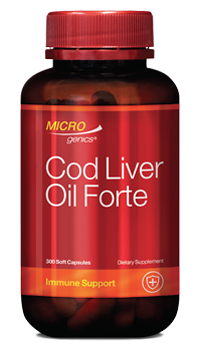 Microgenics Cod Liver Oil Forte 300 Capsules
Cod liver oil is a fish oil supplement with a distinct difference from standard fish oil. Fish oil is extracted from the tissue of oily fish such as tuna, herring, anchovies and mackerel and is high in EPA & DHA. Cod liver oil is extracted from the liver of cod and is rich in fat-soluble vitamins A and D, giving cod liver oil a different yet impressive nutrient profile. Cod liver oil has a long history of providing relief for skin conditions and supporting the immune system.
INGREDIENT INFORMATION
Support skin health
Vitamin A has been used in clinical dermatology since the 1940's1 and numerous clinical studies have found it beneficial for the treatment of skin conditions such as mild to moderate acne. Vitamin A contains a component called retinoic acid, which promotes cell health and helps new skin cells to replace damaged ones, facilitating the clearance of acne scars and spots from the skin surface2. Cod liver oil also contains vitamin D, which research shows can support a healthy skin3. Vitamin D has anti-oxidant and anti-comedogenic properties (it can help unblock pores) which can make it useful for those suffering from acne.
Support a healthy immune system
Cod liver oil is not only beneficial for the skin, it can also help support a healthy immune system and assists in warding off infections in the respiratory tract. It is believed to do so by supporting the health of the epithelial cells (cells that line the insides of the lungs)4. Many epithelial cells produce mucous, and that mucous forms a vital barrier against infections. An alteration in the respiratory epithelium and cilia may be the underlying mechanism behind respiratory infections5. Unhealthy epithelial cells can't act as an effective barrier against infections and a person may become more vulnerable to respiratory tract infections. Cilia cells sweep mucous and dirt out of the lungs, a loss of cilia cells and an increase in mucous secreting cells favours the adherence of bacteria and consequently, increases the risk on infections of the respiratory tract.
Support healthy eye function
Due to high levels of Vitamin A, Cod liver helps support eye health and vision. Vitamin A is a critical component in rhodopsin, a pigment in the inside of the eye that is extremely sensitive to light, and that enables vision in low-light conditions. Low levels of Vitamin A are thought to contribute to the development of macular degeneration.
A study published in the Archives of Ophthalmology found that people who were at high risk for macular degeneration and who took a daily multivitamin that included vitamin A had a 25% reduced risk of advanced macular degeneration during a six-year period6.
SUMMARISED
▪ Cod liver oil is high in Vitamin A and D
▪ Vitamin A and D support healthy skin and may help improve acne scarring
▪ Vitamin A and D support a healthy immune system and may help against recurrent respiratory infections.
PRODUCT BENEFITS
▪ Convenient 1-a-day dose
▪ Capsules for better absorption
▪ Good source of Vitamin A and D
APPROVED LABEL CLAIM
Microgenics Cod Liver Oil Forte contains vitamins that support general health and wellbeing. Microgenics Cod Liver Oil Forte contains Vitamin A that maintain healthy eye function and eyesight. Vitamin A also supports healthy immune system function and health, skin health and integrity.
Vitamin D3 helps Calcium absorption, and a diet deficient in Calcium can lead to osteoporosis later in life. Vitamin D3 maintains bone health and strength.
üüCod-liver oil contains Vitamin A that supports immune system health
üüCod-liver oil contains Vitamin D3 that maintains bone health
INGREDIENTS (per capsule)
Cod-liver oil 250mg
Equiv. to Vitamin A 105micrograms retinol equivalents
Equiv. to Colecalciferol (Vitamin D3 25IU) 625nanograms
Colecalciferol (Vitamin D3 375IU) 9.375micrograms
Retinol palmitate 2.01mg
Equiv. to Vitamin A 1095micrograms retinol equivalents
Total Vitamin A 1200micrograms retinol equivalents
Total Vitamin D3 400IU
CONTAINS NO ADDED
Wheat, corn, gluten, yeast, dairy products, egg, artificial flavours, colours, preservatives or sweeteners.
STORAGE INFORMATION
Store below 30°C, away from children. Take in conjunction with a healthy balanced diet.
DOSE
WARNING – When taken in excess of 3000micrograms retinol equivalents, Vitamin A can cause birth defects. If you are pregnant, or considering becoming pregnant, do not take Vitamin A supplements without consulting your doctor or pharmacist. Adults, take 1 capsule once daily, with meals, or as directed by your healthcare professional.
CAUTIONS/CONTRAINDICATIONS
The recommended daily amount of Vitamin A from all sources is 700micrograms retinol equivalents for women and 900micrograms retinol equivalents for men. Vitamins and minerals can only be of assistance if dietary intake is inadequate. If symptoms persist seek the advice of a healthcare professional. Always read the label. Take only as directed. Do not use if tamper evidence seal is missing, torn or broken. Contains fish, soy and sulfites. Not suitable for use during pregnancy. It exceeds the RDA for pregnancy women for Vitamin A. Cautioned for use during breastfeeding.
MEDICINE INTERACTIONS
If taking prescription medication or if in doubt consult your healthcare professional.